How to stop sitting on your health: Undoing the damaging effects of sitting
By Jenna Schifferle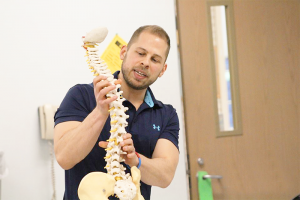 In the ever-increasing digital age, screen time is becoming more prominent in our free time. For many of us, screen time has also become a fundamental part of our jobs. Along with this comes more hours spent parked in a chair and less time spent standing and moving around.
Sitting has become the new smoking.
According to the Bureau of Labor Statistics, the average civilian job in 2016 required a person to sit for 39 percent of their day. This figure soared above average for software developers, bus drivers, and accountants who were required to sit for 81 percent to 90 percent of their workday.
Add time spent sitting behind the wheel or catching up on a favorite show, and it can quickly overshadow physical activity. So, what exactly happens to the body when we sit for too long?
A review of studies published in the journal Annals of Internal Medicine in 2015 found people who sit for an excessive amount of time are at an 18 percent higher risk of developing cardiovascular disease. The same study found these people were at a 13 to 14 percent higher risk of developing cancer and had a 91 percent increase in their risk for developing Type 2 diabetes.
Sitting for a prolonged period of time isn't just bad for your physical health, but it's also bad for your mental health. A study published by UCLA in April showed a correlation between being sedentary and thinning in the areas of the brain associated with memory in middle age and elderly people. A different case study published in the journal Mental Health and Physical Activity showed an increase in mental health conditions such as anxiety and depression for individuals who sit for most of their day.
Graig Shapiro, a sports medicine chiropractor in Williamsville, said in addition to some of these more severe risks, sitting is also going to make you prone to experiencing more back, neck, and shoulder pain, while also leading to conditions like carpal tunnel, sciatica, and tension headaches.
Get proactive
The evidence is overwhelming, but for many of us, sitting for prolonged periods of time is unavoidable. The good news is by being aware of the risks, we can actively work to counteract these negative effects and stay vigilant about our health. It starts with getting moving.
"If you're in one spot for a long period of time, then basically, you're doing damage in the long run. The body's made to move, and you need to be doing that," Shapiro said.
Experts vary on the exact amount of time you should be moving, but standing up and moving a little every hour can make a huge difference in the long run. The more you move, the less damaging the effects of sitting.
In addition, Shapiro recommends three key items to people who work a desk job: regular exercise, stretching, and foam rolling. These are focal points not just after you start experiencing problems.
"The biggest thing is getting people to be proactive and starting to do things before it becomes a problem. We tend to be very reactive in this country. We tend to see when a problem starts. That's when people want to do stretches, when really, you should be doing that before things happen, to prevent it," he said.
Shapiro tells his patients they should "sprinkle" stretches and activities into their daily routine to break up their time, whether it means doing a stretch every hour or every few hours. The goal, he said, is to get into the habit of keeping things moving.
While every body is different, there are two easy in-office stretches that you can do while at your desk, Shapiro said.
One of these is a seated figure-four stretch, where you cross your leg over your knee and gently push down while pulling up on your foot and leaning forward slightly. The other is a couch stretch, where you put your foot on a chair and roll into a lunge position. It is important to keep your back straight as you do so. For more information, you can consult a wellness expert.
For those of us who can't get away for more than a minute, it might require a bit of out-of-office work. Shapiro said some of the top areas to focus on are properly doing squats, working on your pectoral strength, and stretching your hip flexors.
Shapiro emphasized, however, that before beginning any stretching or workout routine, it's critical to consult with a doctor or specialist. Doing exercises incorrectly can lead to injury, and chiropractors or physical therapists can guide you and help you do them safely and effectively.
If you find yourself sitting for hours every day, don't be afraid to talk to your primary doctor for guidance or a referral. They can get you on track to a healthier lifestyle.