By George W. Chapman
Why FTC Opposed to Upstate-Crouse Merger Proposal
The Federal Trade Commission (FTC) recently opposed the Certificate of Public Advantage (COPA) proposed by Syracuse hospitals Upstate Medical University and Crouse Health. The COPA would allow the two hospitals to merge and shield them from federal anti-trust laws. The FTC argued the proposed merger would reduce competition, raise prices, lower quality and depress wages.
The FTC said their research bears this out. I'm sure there is plenty of research that shows without merging, several financially strapped hospitals would have closed altogether. For rural and even suburban communities, a closure results in NO care, NO wages, NO emergency room and longer drives for care.
Ironically, rather than saving a distressed hospital via merger, an aggressive, predatory hospital could just let it fail, resulting in less competition. Upstate and Crouse are literally across the street from each other, so no outlying community would suffer if Crouse closed.
However, the overall Central New York community needs the beds. Upstate is chock full. So why would the FTC oppose the COPA/merger?
If Crouse were to close, Upstate would most likely purchase the assets and hire back the staff. The quality of care would at least be maintained, if not improved. There is still local competition with Trinity Health, which is part of a 95-hospital conglomerate. The FTC fears prices will rise. Wrong. Medicare and Medicaid set what they pay prospectively. There is no negotiating. There are enough commercial insurers in town to keep the newly merged entity from flexing their market share. Raising "prices" has virtually no impact on hospital revenue when 90% of their revenues are controlled.
In the end, Upstate and Crouse will merge.
To put this potential merger into perspective, Louisiana-based LCMC is planning to purchase three Tulane University hospitals (currently owned by HCA Healthcare). The local nurse unions are opposing the mega merger which would reduce competition to two huge systems.
When it comes to "competition," the FTC might want to focus LESS on hospitals merging just to survive and MORE on the lack of choice in most markets when it comes to commercial insurance options. 80% of all U.S. markets range from NO competition to LOW competition among commercial carriers. Just five carriers control more than 70% of the commercial insurance market, which includes employer, individual and Advantage plans. They are: United Health, which controls 28% of the market with $5.3 billion profit in third quarter 2022; Humana, 19%; Aetna/CVS Health, 11% with revenues of $238.6 billion third quarter; Kaiser Permanente, 7%; and Anthem/Elevance, 6%.  And when insurers dominate a market, they can unilaterally raise prices for their commercial products. (In New York, insurer commercial premium increases are reviewed and approved by the NYSDOH.)
---
Virtual Care Satisfaction
A Harris poll of 5,000 adults found 94% of those who used virtual primary care (telehealth) were satisfied with their experience and 79% felt they had a greater role in managing their health. The poll found that about half of the respondents weren't sure what the term "virtual primary care" meant, indicating providers and insurers need to do a better job of communicating the service. However, other surveys have revealed telehealth usage declined from 78% in 2021 to 45% in 2022 among respondents. This had more to do with personal preference than dissatisfaction. Younger adults were more likely to seek care from non-traditional providers, like retail clinics, showing less loyalty to specific providers. Younger adults, feeling more impacted by the pandemic, were more likely to seek virtual mental health services.
Misleading Advantage Plan Marketing
This time of the year, seniors are bombarded with cold calls, texts, emails and mailers from agents and brokers hawking their Advantage plan. And all of us are subject to the ubiquitous TV ads. (Thankfully, open enrollment ends in December.) Ten states have reported to CMS a surge in consumer complaints about aggressive, misleading, confusing and even fraudulent marketing. Seniors have been duped into changing plans after being told their provider may no longer participate in their current plan or they will be eligible for an increase in their Social Security check. Some marketing materials are made to look like official government documents. Consequentially, a Senate committee is considering stricter marketing rules including prior approval of all TV ads, (can they do that for political ads, please?), banning cold calls and holding insurance companies liable for the actions of their brokers and agents. Half of all Medicare members belong to an Advantage plan.
Lobbying Surges
Over the past 20 years, industry stakeholders increased their lobbying expenses 70% from $358 million in 2000 to $714 million in 2020. In 2020 the breakdown among the four major stakeholders was drug manufacturers $308m, providers $287m, insurance/payers $81m and other firms (consulting, policy) $35m. As usual, drug manufactures lead the pack. They have the largest profits and have most to lose. The last thing they want is to be subjected to congressional price controls like physicians and hospitals. Providers are lobbying to virtually stay afloat. Hundreds of hospitals have closed in the past 20 years and most surviving hospitals are operating in the red or with razor thin operating margins. Physicians are facing a 4.4% CUT in their Medicare payments next year.
If Congress is Flipped
As of this writing, Congress is controlled by the Democrats. Odds were Republicans would take the House election day. Assuming they did, what would change in healthcare? Experts see four areas of concern. First, they expect an oversight committee to scrutinize the implementation of the Inflation Reduction Act which finally gives Medicare the right to negotiate drug prices with manufacturers. Second, Congress could limit the expansion of Medicaid and related premium subsidies under the Affordable Care Act. Third, Congress could discontinue telehealth flexibility for Medicare recipients. Fourth, and most controversial, disrupting women's reproductive healthcare.
---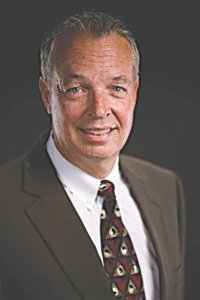 George W. Chapman is a healthcare business consultant who works exclusively with physicians, hospitals and healthcare organizations. He operates GW Chapman Consulting based in Syracuse. Email him at gwc@gwchapmanconsulting.com.