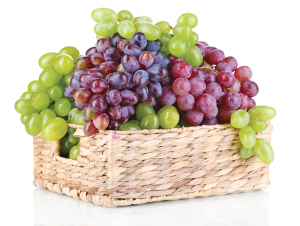 Although grapes are available year-round, nothing heralds the start of fall in Upstate New York quite like grapes. From our grape festivals to our grape stomping to our roadside grape pies, everything is all about the grape.
As a child, I liked grapes for their taste; as an adult, I like grapes for their taste, their thirst-quenching qualities — and most importantly — their bountiful health benefits.
To begin, grapes of all colors — red, green and dark purple — contain an impressive variety of antioxidants known as polyphenols.
Antioxidants promote health and longevity by neutralizing damaging free radicals that have been linked to a host of health conditions and chronic diseases.
Eating a variety of grapes may be especially good for hearts. Human studies have shown that grapes may promote relaxation of blood vessels, which helps to maintain healthy blood flow and reduce heart stress.
Animal studies have demonstrated that grapes may lower blood pressure and reduce inflammation. Controlling inflammation is particularly important in lowering our risk for atherosclerosis and other life-threatening diseases, such as cancer.
Dark red and purple grapes have high concentrations of resveratrol, a widely researched polyphenol that might be responsible for the cardiovascular benefits of red wine. Exactly how resveratrol might do this is still a mystery, but some researchers suggest that it reduces bad cholesterol, thwarts damage to blood vessels and prevents blood clots. Bring on the merlot, please!
And while grapes do contain more sugar than a lot of fruits, eating colorful, nutrient-rich fruits is crucial to a healthy diet. A 2013 study published in the British Medical Journal, in fact, found that people who ate at least two servings each week of certain whole fruits — particularly grapes, blueberries, and apples — reduced their risk for Type 2 diabetes by as much as 23 percent in comparison to those who ate less than one serving per month.
Low in fat, sodium, cholesterol and calories (only 100 per cup), grapes are also an excellent source of vitamins C and K. Immune-boosting vitamin C helps the body maintain healthy tissues and heal wounds, while bone-building vitamin K aids in proper blood clotting.
Helpful tips
Select firm, plump grapes that are even in color and firmly attached to the stem. Don't wash grapes when you return home, but do refrigerate them in the bag they came in. Rinse before eating in a colander under cold water.
Orzo-Grape Salad with Feta and Mint
Adapted from EatingWell
1 cup orzo, preferably whole-wheat
2 tablespoons extra-virgin olive oil
2 tablespoons lemon juice
1/4 teaspoon salt
1/4 teaspoon freshly ground pepper
2 cups quartered or halved seedless red and green grapes
1/2 cup crumbled feta cheese
1/4 cup chopped fresh mint
1 to 2 garlic cloves, minced
2 tablespoons finely chopped red onion (optional)
Bring a large saucepan of water to a boil. Add orzo and cook until just tender, about eight minutes. Drain in a colander and rinse with cold water until cool.
Meanwhile, whisk oil, lemon juice, salt and pepper in a large bowl. Add grapes, feta, mint, onion and the orzo; toss to combine.
Anne Palumbo is a lifestyle columnist, food guru, and seasoned cook, who has perfected the art of preparing nutritious, calorie-conscious dishes. She is hungry for your questions and comments about SmartBites, so be in touch with Anne at avpalumbo@aol.com.