By Anne Palumbo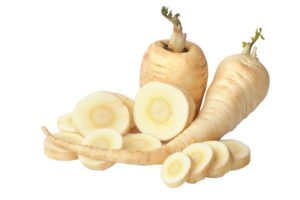 Pity the poor parsnip. Often overlooked in favor of its more attractive cousin, the carrot, it yearns for our attention. Pale, anemic and rather awkwardly shaped, it begs for us to wake up to its distinct taste, versatility and rich nutritional profile.
Let's begin with what makes this particular root vegetable so nutritious.
Parsnips, like many vegetables, are a great source of soluble and insoluble fiber, with one cooked cup providing nearly 25% of our daily fiber needs. While insoluble fiber promotes regularity, soluble fiber helps keep our tickers in tip-top shape by ferrying cholesterol out. Worried about Type 2 diabetes? Fiber may lower your risk of developing this chronic disease because it helps slow down the rate of glucose absorption after a meal.
Despite its pale exterior, parsnips dish up a surprisingly healthy dose of vitamin C: about 25% of our daily needs in just one serving. Essential for the growth and repair of tissue all over the body, vitamin C also helps to increase the production of infection-fighting white blood cells, which is why many of us turn to vitamin C during cold and flu season. Though it may not keep you from catching a cold, there is some evidence that vitamin C may shorten the duration and intensity of a cold.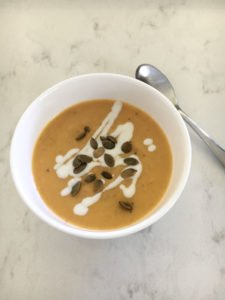 Parsnips are a decent source of folate, a B vitamin especially important to woman of childbearing age because it reduces the risk of birth defects. Folate benefits the rest of us in three outstanding ways: by ridding the blood of an amino acid that has been linked to narrowing and hardening of the arteries; by regulating our moods due to its role in the production of serotonin (a.k.a. the "happy chemical"); and by helping to prevent gum disease by reducing inflammation.
Rich in health-promoting antioxidants — with vitamin C and manganese leading the list — parsnips may provide protection against cell-damaging free radicals that contribute to many chronic diseases, such as cancer, heart disease, Alzheimer's and vision loss.
As for its distinct taste and versatility, parsnips possess a sweet, nutty flavor unlike any other vegetable, lend themselves to a variety of cooking methods (roasted, sautéed, braised or boiled), and are a welcome addition to many dishes.
Parsnip-Pumpkin Soup with Coconut and Curry
Adapted from Epicurious Serves 4-6
3 medium parsnips, peeled and cut into 1-inch chunks
1½ tablespoons olive oil, divided
1 medium onion, chopped
3 cloves garlic, minced
1 tablespoon Thai red curry paste (more, if desired)
¼ cup warm water
1 tablespoon ginger, peeled and minced
1 cup canned pumpkin
3 cups chicken broth
1 cup lite coconut milk
Lime-Yogurt Drizzle
1 to 2 tablespoons fresh
3/4 cup raw shelled pumpkin seeds, roasted
Heat oven to 400 degrees. Place parsnip chunks in a large bowl and toss with ½ tablespoon olive oil and a sprinkling of salt. Spread out on large baking sheet in a single layer and roast, stirring once or twice, for 25 minutes.
Meanwhile, in a large soup pot, heat remaining 1 tablespoon olive oil over medium heat and sauté onion and garlic for about 5 minutes until soft. Add roasted parsnips to this pot, along with broth, and bring to a slow boil.
Once soup is boiling, reduce heat to low, and add pumpkin and ginger. Before adding red curry paste, blend it with ¼ cup warm water in a small bowl. This makes it easier to incorporate into soup. Cover and simmer for about 15 minutes. Puree the soup with handheld immersion blender, stir in coconut milk, season with salt and pepper. Add more broth or coconut milk if soup seems too thick. Garnish with lime-yogurt drizzle and roasted pumpkin seeds.
To make lime-yogurt drizzle: Whisk yogurt and lime juice (to taste) in a small bowl until well blended. Note: If you're skipping the drizzle, you can add fresh lime juice directly to the soup when you stir in the coconut milk.
To roast pumpkin seeds: Heat oven to 350 degrees. Spread the raw, shelled pumpkin seeds flat on a cookie sheet and bake for about 10 minutes, until lightly golden.
Helpful tips
Select parsnips that are firm, smooth and free of blemishes. In terms of size, small to medium offer the best flavor (fatter ones can be woody). Although parsnip's peel can be eaten, many recommend peeling it to improve texture as well as taste (it can be bitter). Parsnips, stored in a plastic bag and placed in your refrigerator's vegetable drawer, should last about two weeks. Wash just before use.
Anne Palumbo is a lifestyle columnist, food guru, and seasoned cook, who has perfected the art of preparing nutritious, calorie-conscious dishes. She is hungry for your questions and comments about SmartBites, so be in touch with Anne at avpalumbo@aol.com.
Correction: October's chia seed pudding recipe forgot the most important ingredient of all: 1/4 cup chia seeds. Clearly, I need to eat more brain foods!