By Deborah Jeanne Sergeant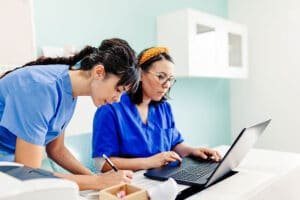 The medical scheduler is non-clinical role that includes direct contact with both patients and providers, forming a vital link between those giving and receiving healthcare. 
While not requiring any education beyond a high school diploma, this job can offer a means of getting into the administrative side of healthcare.
Schedulers do more than make appointments.
"They explain how the scheduling works, how to prepare for the appointment and—if it helps—what to wear and if should they have eaten," said Toni Haugen, licensed acupuncturist with Queen City Health and Wellness in Buffalo. "When people come to see us, they've been in excruciating pain and are rightfully nervous about coming in. I believe it's our job as an office to really prepare them for how the appointment."
Schedulers also help the office's providers and other personnel function better. These offices can be busy places.
"Medical schedulers play an integral role to keep patient flow on track and the practice running efficiently," said Maureen Bisaccio, director of Adecco Medical & Science for Upstate New York. "By relieving doctors and nursing staff from certain responsibilities, it allows them to focus on providing more hands-on patient care."
Schedulers may also schedule home visits from some types of providers and schedule transportation to visits. This happens over the phone and sometimes in person, so a good candidate for a medical scheduler position should have good people skills and phone skills.
Since medical offices use technology to keep all their visits organized, a medical scheduler should also possess proficiency in Microsoft Office and be capable of learning any practice-specific software.
"Medical schedulers often work in a fast-paced environment," Bisaccio said. "An ideal candidate will be detail-oriented, organized and have the ability to multi-task in a busy practice. Other soft skills include someone who has excellent communication skills and is professional and personable. As in any medical environment, there's also an element of compassion and patience necessary to provide best-in-class service to patients."
A medical facility can be a stressful and busy environment. For this reason, Farah Roman, director of staffing services for RBA Staffing in Rochester, said that a good medical scheduler should have organizational skills.
"It should be someone who can take ownership, has the ambition to troubleshoot and prioritize and reprioritize as the day goes on," she said. "You have to work under pressure as you make changes to the schedule and meet the needs of the patient, provider and other staff."
Smaller practices may require a medical scheduler to perform more secretarial duties, such as filing, reception, and managing the office. Larger facilities may silo the worker as only a scheduler. A successful medical scheduler may have a number of opportunities for advancement in a few different environments. Working as a medical scheduler can offer exposure to many facets of the medical office.
"I've had schedulers move up to be a secretary for a few of our providers," said Meg Steffan, customer service and scheduling manager at UBMD Orthopedics & Sports Medicine in Buffalo. "You've got to be thinking quickly when on the phone with patients. All of our doctors treat different body parts in orthopedics."
She started out as a scheduler and worked in that role seven years.
While some medical offices have added online scheduling, Peter Holdsworth, operations manager with UBMD Orthopedics & Sports Medicine in Buffalo, does not see medical scheduling as an endangered career choice.
"We do not see it as becoming more automated," he said. "We've talked about online scheduling and we're close to enabling that; however, we're finding that there's no substitute for the human interaction and the knowledge that an experienced scheduler can bring to the table. Everyone assumes online is easier, but the variety of questions about insurance, locations. Yes, we could build a logical hierarchy but it's not easier or faster. A human on the phone may be the fastest."
Some people prefer making their medical appointments with a person rather than an online calendar. Some people have questions that require a phone conversation. Many medical offices believe that the customer service offered by a medical scheduler cannot be replicated through a website.
The Bureau of Labor Statistics states that the annual mean wage for a medical scheduler in the Buffalo area is $38,350.