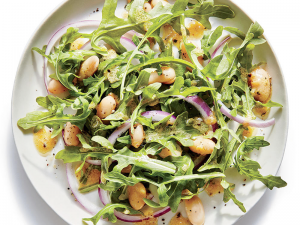 Eating healthier tops many New Year's resolutions lists, and who can blame us? We've been forced to consume all kinds of sinfully rich treats throughout the holidays and now can't seem to fasten our waistbands. Go figure!
When the urge for clean, simple, healthy food strikes our household in January — and it always does — we load up on leafy salad greens, the darker the better. Lately, we've been reaching for arugula (pronounced uh-roo-guh-la), a nutrient-dense green with a distinct peppery flavor and aroma.
Super low in calories (only 8 calories per 2-cup serving) and rich in fiber, arugula is a healthy choice for those looking to lose or maintain their weight. Not only is it flavorful and filling, but it's packed with an impressive array of nutrients.
Like many of the darker greens, arugula delivers decent amounts of vitamins K and A. While both vitamins contribute to overall bone health — a boon for boomers with looming osteoporosis — vitamin K also helps blood clot properly and vitamin A promotes a healthy immune system and good vision.
Worried about age-related macular degeneration (AMD)? Consuming arugula may help protect against this disease, as it also contains substantial amounts of two carotenoids that further support eye health: lutein and zeaxanthin. In fact, according to the National Eye Institute, studies have found that dietary intake of lutein and zeaxanthin is associated with a lower risk of developing advanced AMD.
Arugula, along with cabbage, Brussels sprouts and broccoli, is a cruciferous vegetable. These protective vegetables — a.k.a. "carcinogen killers" — teem with anti-cancer compounds that neutralize free radical damage and slow the aging process. Since studies support a strong link between cruciferous vegetables and a reduced rate of certain cancers, many health agencies—including the American Cancer Society—recommend regular consumption of this kind of vegetable.
Lastly, arugula is super good for hearts, thanks to many factors: its inflammation-lowering antioxidants, its unique arsenal of minerals that help control blood pressure (calcium, magnesium, and potassium), and its healthy dose of folate, a B vitamin that helps to reduce arterial hardening.
Lemony White Bean-and-Arugula Salad
Adapted from Cooking Light
2 tablespoons extra-virgin olive oil
1 teaspoon grated lemon rind plus 3 tablespoons fresh juice (from 1 lemon)
1 garlic clove, minced
1 teaspoon Dijon mustard
½ teaspoon kosher salt
¼ teaspoon coarse black pepper
1 (15-oz.) can unsalted cannellini beans, rinsed and drained
¼ cup thinly sliced red onion
3-4 cups firmly packed baby arugula
Combine oil, lemon zest, juice, garlic, mustard, salt and pepper in a large bowl, stirring with a whisk. Add beans and onion; toss well to coat. Add arugula; toss gently to combine.
Helpful tips
If buying fresh, select arugula that looks vibrant and green, avoiding leaves that are wilted, yellow or slimy. If buying prepackaged arugula, check the bag for excess water, as moisture can cause arugula to rot quickly. When stored properly in the refrigerator—in a plastic bag with a dry paper towel—arugula can last up to two weeks.
Anne Palumbo is a lifestyle columnist, food guru, and seasoned cook, who has perfected the art of preparing nutritious, calorie-conscious dishes. She is hungry for your questions and comments about SmartBites, so be in touch with Anne at avpalumbo@aol.com.