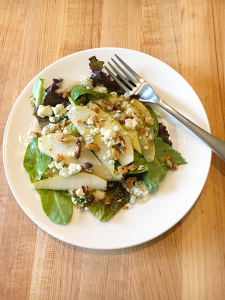 Why reach for a pear? Besides how refreshing and delicious a crisp pear can be, pears are a super source of fiber and a goldmine of phytonutrients — those beneficial compounds found in plants that are thought to have health-protecting qualities.
One medium pear — with its skin on — boasts nearly 6 grams of fiber, which, for many, is about a quarter of our daily needs. Conveniently, pears deliver both soluble and insoluble fiber. Pears' soluble fiber — pectin — helps regulate blood glucose levels and lower cholesterol, while pears' insoluble fiber promotes regularity. A well-run system improves bowel-related health problems, like constipation, hemorrhoids and diverticulitis.
Adequate intake of fiber is a long-established factor in reducing our risk of both heart disease and Type 2 diabetes; and in the case of pears, this benefit may be even more pronounced due to the helpful combination of both kinds of fiber.
Like most fruits and vegetables, pears come packed with important phytonutrients that help to quell inflammation and mop up cell-damaging free radicals. Many experts believe that the work of these naturally occurring compounds may thwart the development of certain cancers and other life-threatening diseases.
Nicely low in calories — about 100 per medium pear — pears can help with weight maintenance and loss. In fact, studies support that the more fresh fruit and vegetables someone eats, the less likely they are to gain weight. Modest calories notwithstanding, a pear's high fiber and water content may also contribute to weight control, as both nutrients help us to feel fuller longer.
Although pears contain natural sugars in the form of fructose, they have a low glycemic index (GI), according to the American Diabetic Association. The GI is a scale from one to 100 that ranks how foods affect blood sugar. Because of their impressively high fiber content, pears unleash sugar into the bloodstream slowly, providing us with a steady stream of energy.
What other nutrients do pears bring to the table? Pears are a good source of immune-boosting vitamin C, bone-building vitamin K, and energy-producing copper.
Pear, Walnut and Gorgonzola Salad
Adapted from Bon Appetit-Serves 6
3 tablespoons fresh lemon juice
1 tablespoon Dijon mustard
1 tablespoon minced shallot
1 teaspoon dried thyme
1/3 cup olive oil
salt and pepper to taste
5-6 cups of mixed greens
2-3 medium, ripe pears: halved, cored, thinly sliced lengthwise
1 cup crumbled Gorgonzola
1 cup walnuts, toasted, coarsely chopped
Whisk first four ingredients in small bowl to blend. Gradually whisk in oil. Season dressing to taste with salt and pepper.
Toss greens in large bowl with enough dressing to coat. Divide greens among six plates. Top with pear slices, dividing equally. Sprinkle with cheese and walnuts. Drizzle lightly with remaining dressing and serve.
Helpful Tips
If you want a ripe pear to eat immediately, press a finger gently into the top of the pear where the stem joins the fruit. If it yields to pressure, the fruit is ripe. A ripe pear will last in the fridge about three to five days. If you want to eat the pear in a few days, the top should be hard. Hard pears, stored at room temperature, will ripen in a few days. You can speed things up by placing the pears in a paper bag with a ripe banana or apple. Whenever possible, eat the nutrient-rich skin. If you eat canned pears, choose versions packed in 100 percent fruit juice (versus sugary syrup).
Anne Palumbo is a lifestyle columnist, food guru, and seasoned cook, who has perfected the art of preparing nutritious, calorie-conscious dishes. She is hungry for your questions and comments about SmartBites, so be in touch with Anne at avpalumbo@aol.com.