By Deborah Jeanne Sergeant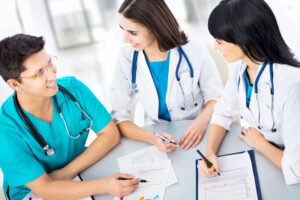 Few careers in healthcare share the same kind of impact as the physician assistant. 
The PA often performs tasks and works in roles like that of the medical doctor, but the PA educational path is shorter than the MD's. That means that more PAs can enter the field to fill the gaps in healthcare caused by the increased demand and massive number of MD retirements happening.
Like the MD, the entrance into PA programs is tough, with a 2% to 3% acceptance rate. 
The capacity for PA programs is limited and the demands for applicants are high. Strong grades in science and math are a must, along with 500 to 2,000 hours volunteering or working in some facet of healthcare to demonstrate their dedication to the field.
The annual median pay for a PA in the Buffalo area is $108,920.
"We look for in high school applicants, students who have been strong in their science and math and AP honors college credits throughout high school," said Allyson Kirk, associate program director of the PA program at Daemen College. 
"The number one characteristic that we look for is good communication skills," she added. "I do think in our career, we very frequently are the patient communicators. We do a lot of patient education explaining about procedures, treatments and things like that."
The entry is so challenging that nationwide, PA programs boast an attrition rate of less than 1%. The applicants can participate in the five-year program directly out of high school or enter the two-year program if they already have a bachelor's degree.
Participants must maintain a GPA of 3.2 or higher in most programs.
The final year of either program is working at hospital, rotating through a variety of settings every four or five weeks. After graduation, PAs must take a board exam and pass a background check to obtain their state license. At that point, they can practice in every setting in healthcare and in any specialty, augmented by on-the-job training. They must also complete 100 hours of continuing education credits every two years and sit for the exam every 10 years.
PAs can perform physical examinations, diagnose, order lab work, interpret lab work, perform procedures and assist at surgeries. At some practices, such as Rosinski's, they see their own panel of patients.
Nurse practitioners and physician assistants are sometimes referred to as "physician extenders"—not a term preferred by PAs—because they allow the office to extend care to more patients.
"Being a PA allows for versatility in your career," said Adam G. Grupka, PA and director of Healthcare and Education in the Health Professions HUB and assistant vice president for academic affairs at D'Youville College in Buffalo. "As a PA, I can practice in every state and in every medical setting and specialty, improving healthcare access and quality."
Physicians who study a specialty are much less nimble in their career. The PA also has a better work – life balance.
"Students can complete their MS degree in 24 to 28 months, and earn a very competitive salary upon graduation," Grupka added. "You have the ability to have an impact your community and build rapport with your patients. You are part of a medical team which treats the whole patient together. The job market expects continued growth over the next 10 years."
According to the Bureau of Labor Statistics, the job outlook from 2020 through 2030 is 31% growth, much higher than most other careers. The annual median pay for a PA in the Buffalo area is $108,920.