Local schools ready to go with several back-to-school plans in the works
By Deborah Jeanne Sergeant
Planning for back-to-school isn't easy as the pandemic and its effects drag on. School administrators have had to wait until they received guidance from a variety of sources (CDC, state government) before even drafting plans that will require revision before they're implemented. Though these are guidelines — not legal requirements — school administrators want to keep children safe.
Dan Domenech, executive director of the American Association of School Administrators (AASA) in Virginia, told In Good Health in mid-July that his organization has been working on reopening plans. The organization's taskforce of 27 supervisors from a variety of sizes of school districts have been drafting a plan that follows the guidelines of the Centers for Disease Control and Prevention. These include social spacing of optimally 6 feet minimum.
Considering the size of most school classrooms, "it's not possible for all the students to attend," Domenech said. "The model is a hybrid or blended model: there would be a number of students in the building who can be accommodated with social spacing. Those who cannot will be at home."
The student body would cycle in and out of the school, two days in school and three days of remote learning at home per week.
But Domenech said that the cost involved would be high, as the school would need to pay for more frequent cleaning, equipment to take temperatures, personal protective equipment for the staff, and additional bussing expenses, "because a 70-passenger bus accommodates 12 to 13 students now," Domenech said.
The AASA estimates that it will cost an average school district of 3,700 students $1.8 million annually in just these costs to adhere to the CDC's guidelines. That's an average of $490 per student. For larger districts, it would surge to the scores of millions.
"The districts don't have that money," Domenech said. "They've had their budgets reduced because of the economy. They have to make additional cuts somewhere. There are attempts to lobby Congress to provide a bill that will provide additional dollars."
About 85% of the average school budget is personnel costs, according to Domenech. But laying off teaching staff at a time when schools need smaller class sizes presents a problem.
Because of these issues, another back-to-school model considered is the one Domenech calls "Come one, come all, or don't come at all." He said that schools in states such as Texas, Alabama, Florida and Georgia are considering disregarding social distancing and masks at school and anyone uncomfortable with it may educate at home.
"That disregard for guidelines is dangerous," Domenech said. "We're seeing right now what happens: the infection rate goes sky high. I'd hate to see what would happen in a school."
Typically, schools in New York tend to open after Labor Day, Sept. 7 this year. This is later that many schools in the South, which usually go back to school by mid-August. These districts may provide a foreshadow of what Northern schools can expect; however, by then it may be much more difficult to alter plans.
"The teachers' associations and unions are saying if the environment isn't safe, they're not going to teach," Domenech said. "A lot are saying they're going to retire or quit. Some have potential issues that could put them at risk. It's another factor."
Remote teaching requires "incredible coordination and planning," he added. Teachers and students must have the equipment, high speed internet access and familiarity with how to use both to participate fully.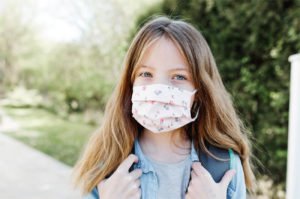 He said that one-third of students don't have a computer or internet in their home.
"The money isn't there to provide every child with a laptop," Domenech said. "Not all parents can afford the internet."
Those in rural areas may not have a high-speed connection available.
"The pandemic has made internet connectivity as necessary as every home having water and electricity," Domenech said.
Some districts have outfitted school buses with a Wi-Fi hotspot connection so school personnel can bring connectivity to pupils lacking it.
For education at home to succeed, parents must also be willing and able to participate in educating their children at home. Domenech said that a much larger percentage of parents wants their children to learn at school, not home. A large piece of that lies in the quandary of dual-income households. Who will watch the children if both parents work?
Domenech has few answers for how to work through that challenge.
Some populations of children need more attention from teachers and are less likely to excel in learning independently, such as special education students, English as a second language students and those who have not mastered reading.
"They need to be in the building," Domenech said. "Districts are considering prioritizing those students as distance learning isn't as effective."
Sending children to school but keeping them spread out and in smaller groups without typical gathering points like gym class and lunchtime in the cafeteria may work in some schools; however, the building's layout and size makes a difference, as does the number of children attending.
Domenech said that on average about half the children who attend a school would be able to attend at a time; however, 25% would be better. But these are optimistic figures; many schools are overcrowded during normal times.
Other community facilities could be considered, such as rooms at public libraries for instruction or childcare.
School meals would continue regardless of where children spend their day, but extra-curricular activities, particularly those that keep children close to each other, will likely not happen.
Domenech is also considering the social and emotional needs of children, especially considering the stressors of current times. Child abuse may go unnoticed if children aren't attending school. Signs of neglect could be missed.
Local Schools
Michelle T. Bradley, superintendent of schools at Lockport City School District, has been looking to Gov. Cuomo's office, New York State Department of Health and the state Department of Education for guidance.
Once it's received, "then we'll kick into action," Bradley said.
The school's coronavirus preparedness committee, formed March 1, was renamed the school reopening committee as the school started making basic plans and developing strategies. Just which direction those strategies will take is up to the guidance offered by the state bodies.
Bradley said that the school will have to make plans regarding several areas, including health and safety, teaching and learning, budget, technical deficiencies, students with special needs, and more.
Much speculation has circled among school administration that reopening could be based upon city, county or region, or by case number. Lockport schools had planned to return to classes Sept. 1; however, as of mid-July, it's not certain when the schools will open and what school will look like at that point.
"It does present challenges," Bradley said. "It feels like we're at a standstill. We don't want to get too far out ahead of guidance from the governor's office and the Department of Health. We're hoping it provides us with enough time to put together a plan."
Bradley has been meeting with the Orleans/Niagara school district superintendents. They have discussed the same scenarios as Domenech, and discussed wearing masks and reducing the number of those riding the school bus.
"The parents' voices are important to us," Bradley said. "We want to hear from the parents in terms of how safe and confident they are in returning their children to school, if they'd be willing to transport their child if we have to reduce capacity on school buses, and how remote learning has gone for the past several months."
The schools are also considering how the facilities could be reconfigured to accommodate more social distancing, how to meet the needs of younger and special needs students, and how to have physical education, school lunch, and more.
If children learn from home part of the time, they will still be eligible for school meals as they have been right along.
The schools are also already making sure each student receives an iPad at kindergarten and Chromebook in eighth grade.
"We did notice some areas that didn't have highspeed access, so what we did is provide those families with WiFi, which allows them access," Bradley said.
The schools are also stocking up on personal protection equipment, sanitizer, shields and sanitizing products in anticipation of a second wave of COVID-19 cases.
"Our cleaning protocols will be enhanced, as well as bus cleaning protocols," Bradley said.