Amherst town supervisor reflects on his 46 years as medical doctor and how he transitioned from medicine to politics — and what he will do when his term as supervisor ends later this year
By Chris Motola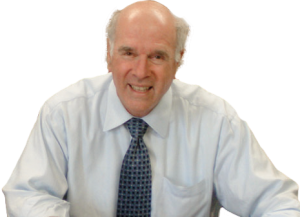 Q: How did you make the transition from medicine to politics?
A: I was first elected to the school board in 1982 and later elected to county legislature in 1997, and then the town supervisor position in 2007. I'd been practicing medicine for 46 years. I retired last year. So I didn't move from one to the other; I did them both.
Q: What initially led you to want to become more involved in local politics.
A: I wanted to serve the community.
Q: To what degree are the skills between medicine and politics transferrable?
A: The 200,000 patient contacts I've had have certainly given me a lot of practice in dealing with people one-on-one, or one-on-two. I'm much stronger at answering questions than I am at giving speeches. Mostly my law background helped me in terms of politics.
Q: Were you practicing law at the same time you were in medical practice?
A: I practiced law in the '80s and '90s. I did some medical law, real estate law. But mostly law school taught me how to read, write and speak properly.
Q: Do you miss medicine?
A: I miss helping people with some of the most significant issues of their lives. I also miss all the advice and opportunities.
Q: What have been some of the major issues you've dealt with as town supervisor?
A: At my three different levels of political experience I dealt with cultural diversity. Excellence in education at the school board level. At the county level, I dealt with the budget crisis of 2004-2005. At the town level, I've had a number of successes in reducing expenses and reducing taxes while retaining services.
Q: Have you encountered any complications due to the rapid political changes in health care law?
A: Under my leadership we went to self-insured some years ago. We've had almost no change in our health insurance costs since then, with the exception of the bludgeoning we're getting, along with everyone else, from the drug companies. So I was able to make a difference there.
Q: Can you expand on what self-insurance looks like in your jurisdiction?
A: We have over 600 policies. We're a large enough group that we could be self-insured. We budgeted so much for our health insurance and we're able to come in beneath that amount. We've done very well. We've had only one increase in our insurance premiums, 3-5 percent just last year.
Q: Do you think that's something other towns can mimic?
A: You need a certain amount of employees in order to have an adequate group. The County of Erie could do it if they haven't already. You need enough contracts to make it work. That's what health insurance companies do. They combine smaller entities and sell a policy and make a profit or put it into their reserves.
Q: Looking back on your medical career, what's changed from the time you got into the medicine to the time you got out?
A: Medicine's changed a lot. I went in in 1970, spent 46 years seeing patients. It's changed substantially and I changed with it for a number of years. For example, around the time I went into politics, I stopped going into hospitals. I found the hospital specialists were much more efficient at inpatient care than I was. I stopped excepting new patients so that much practice started to shrink.
Q: Are you involved in any physician groups?
A: I'm not a member of any physician organizations anymore. I've been out of touch with them for about a decade at least.
Q: What do you want your political legacy to be?
A: We showed that ordinary people could lower the cost of running a municipality. We lowered the costs by over $3 million and reduced the tax levies. We tried to show that anybody could do it.
Q: Was the self-insurance one of the causes or effects of that?
A: Health insurance was one of a number of areas where we lowered costs. It was mostly to stem the spiral of out-of-control health care costs. They were going up 10, 15 percent a year, year after year. We bid out our administrative costs. We bid out our pharmacy component. So we actively lowered costs. We negotiated with the hospital providers.
Q: Knowing what you do now, if you were to reenter medicine as a young doctor, what would you do differently?

A: I would probably join a group and focus on seeing patients. Let the group take care of the business aspects. I did all of that for the last 40 years.
Q: Do you see yourself staying in politics in some capacity?
A: I'm term-limited, so this is my last year as town supervisor. I'm not planning on running for anything next year. Last year I went from two full-time jobs to one. Next year, I'm going from one to none. I'm not quite sure what I'm going to do with myself. In politics you have to wait for a proper opening, so you never know what's going to happen. I don't think I'll be going back to medicine anytime soon. We'll see what happens.
---
Lifelines
Name: Barry A. Weinstein, M.D.
Position: Amherst Town Supervisor
Hometown: New Rochelle, NY
Education: SUNY Buffalo. Bachelor's degree, 1965; medical degree, 1969; law school, 1976
Affiliations: N/A
Career: Emergency room physician, Rochester, 1970-1973; ER physician, Millard Fillmore Suburban Hospital, 1974-1975; family medical practice, 1973-2016; Erie County legislator, 1998-2007; Amherst councilman, 2008-2009; Amherst town supervisor, 2010-present; interim purchasing director, 2010-2016
Organizations: Erie County Industrial Development Agency; Erie County Fiscal Stability Authority; various town committees
Family: Four daughters; seven grandchildren
Hobbies: Golf (Westwood Country Club champion 1985, 1987)