Upstate has a surprisingly high number of castles — all open to the public
By Deborah Jeanne Sergeant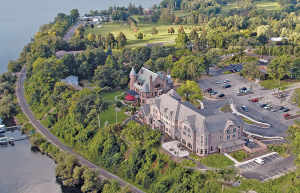 You don't have to cross the Atlantic to see castles this season. Upstate offers a few closer to home to appeal to your inner Royal.
• In the Mohawk Valley region, Beardslee Castle offers dining and event space. The Irish-style castle looks like a storybook creation. The castle's murder mystery dinners and ghost stories seem apropos. But it's also host to numerous weddings. Many nearby places of lodging can host overnight guests.
(http://beardsleecastle.com; 123 Old State Road, Little Falls)
• The New York State Military Museum displays artifacts pertaining to state history from the Revolutionary War to Desert Storm. It's a great place to bring New York's military history to life for the entire family. Admission is free.
(http://dmna.ny.gov/historic; 61 Lake Avenue, Saratoga Springs)
• Singer Castle offers guided and self-guided tours to view its displays of antique furnishings, unique architecture and stately grounds. Since the 100-year-old castle is located on Dark Island, contact a tour boat service or use your own boat to visit. $14.25 for adults; $5.25 for children, plus the cost of transportation.
(www.singercastle.com; Chippewa Bay)
• Boldt Castle is accessible only by boat. Boldt Castle has undergone significant renovation recently. If you've visited before, it may be time to return. And if you're never toured it, it's a must-do for your summer trips list. View its decadent gardens, architecture and period appointments. $9 for adults; $9 for children 13+; $6 for children 6 to 12; free for children five and younger, plus the cost of transportation.
(www.boldtcastle.com/visitorinfo; Heart Island, Alexandria Bay)
• Belhurst Castle, offers a day spa, lodging, two restaurants, winery, meeting space and tours. Widely lauded for its romantic decor and atmosphere, reserve a trip to Belhurst as a couples getaway rather than a family trip. The day spa and on-site restaurants also make Belhurst a great venue for a girl's day out or bachelorette party. Belhurst also hosts live music. See the website for the schedule.
(www.belhurst.com, 4069 West Lake Road, Geneva)
When visiting castles, remember that their exhibits likely hold significant historic value. Make sure photography is permitted before snapping away. Keep curious children back from exhibits to help preserve them for future visitors.