By Deborah Jeanne Sergeant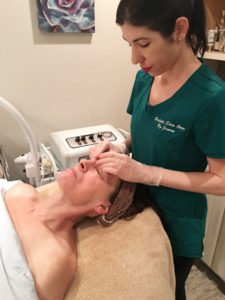 Activated charcoal masks have become a popular facial treatment, available at many spas in the area.
"Professional end charcoal masks can be very effective in drawing out toxins and purifying," said Janine Testa, owner of Holistic Skin Care by Janine in Williamsville. "Just as you have charcoal in a water filter, this attracts charcoal and draws out impurities."
Those applying charcoal masks place a warm towel to the face to open pores. Next, they apply the charcoal mask to the skin with either clean fingertips or a brush, keeping care to avoid the eyes, eyebrows, mouth, hairline and inside the nose. The masks can pull hair during the process of mask removal. Once they're done applying the mask, they allow it to dry for 10 to 15 minutes before removing it. Depending upon the type of mask used, they may peel it off and clean off any leftover bits with a wet washcloth or clean it off entirely with a wet washcloth. A charcoal mask may also be used in problem areas that are prone to excess oil.
"There's lots of good charcoal masks on the market," Testa said. "It's good for people who have clogged pores, blackheads and oily skin. It's good for acne. But they can be drying."
For this reason, charcoal masks are not recommended for dry skin. Oddly, many people aren't accurate in understanding their skin's issues. This is why seeking help from a skin care professional can help determine what's going on and what products can help keep the skin clear without blemishes or flaking.
Testa said that the charcoal masks available at stores tend to have more of a glue-like consistency, which can make them peel right off. Especially if they are over used, they can cause irritation.
Karissa Karwick, esthetician at Excuria Salon and Spa in Williamsville, said that charcoal masks can also be used before a different mask, such as one that promotes anti-aging, since the charcoal masks open up pores.
"The other products are able to penetrate down deeper into the skin," Karwick said.
She recommended using a charcoal mask about once every couple of weeks for a deep cleaning; however, those with skin conditions such as sensitivity, atopic dermatitis, eczema or broken skin should ask a doctor before using a charcoal mask.
People with oily areas such as the "T-zone" of the forehead, nose and chin, sometimes use a charcoal mask in only that area and a moisturizing mask on drier areas of the cheeks.
In addition to charcoal masks that are smoothed onto the face, there's also the fold-out style mask. Karwick said that they're challenging because of the application and also because some of the ingredients in it can be harsher on the skin.
She prefers the washable kind.
"They're easy to remove," Karwick said. "We remove with a warm washcloth and circular motions. You can add more water if you need to. We're not scrubbing a kitchen floor.
"They really are great masks. The charcoal acts like a magnet drawing out impurities in the skin. It can really make a difference."
Photo: Janine Testa, owner of Holistic Skin Care by Janine in Williamsville, applying a charcoal mask on a client's face. "It's good for people who have clogged pores, blackheads and oily skin. It's good for acne. But they can be drying."