Ancient therapy that offers pain relief gained popularity thanks to Olympian Michael Phelps
By Deborah Jeanne Sergeant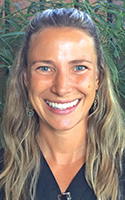 Most recently popularized by Michael Phelps and other Olympians, cupping therapy has been used since ancient times.
The technique involves using a cup to create a vacuum on the skin to pull it upwards, away from the body, and suspend it.
The modality has been recognized for its ability to increase circulation, speed healing and break up scar tissue, all benefits any Olympian would prize. But local experts say that everyday people my benefit from cupping as well.
Erik Kastner, physical therapist with Family Care Physical Therapy in Williamsville and Buffalo, said that especially right after the Olympic Games, many local people asked about the therapy, even though they're not elite athletes.
"Typically, it's used for anything when you have musculofascial tightness," Kastner said. "It's for trigger points, plantar fasciitis, general tightness from low back pain or shoulder instabilities."
Practitioners also use it for patients with spinal pain, migraines, muscle soreness and rheumatic pain as well.
Unlike massage therapy, which pushes tissue inward, cupping pulls the skin outward to stimulate blood flow and the movement of lymph.
Sessions usually last five to 10 minutes, but are accompanied by other modalities.
"I don't think it's a stand-alone tool," Kastner said. "It can last five or 10 minutes as part of an hour-long treatment."
Kristen Gilbert, licensed acupuncturist and Chinese medicine practitioner with CNY Fertility & Healing Arts, said that drinking water can improve the results of a cupping session because "cupping helps detoxify the body so drinking water before and after helps in the process."
CNY Fertility & Healing Arts operates offices in several Upstate New York regions, including Buffalo.
As the Olympic athletes evidenced, cupping can leave behind ring-shaped marks; however, Gilbert said that the process isn't painful. Clients usually feel a little tension in the skin, but find cupping relaxing.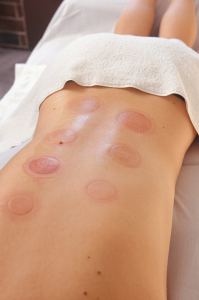 Gilbert said the marks are part of its therapeutic effect as it improves circulation.
"It's also helpful to bring clothing that covers where the cupping is performed," Gilbert said. "Exposure to cold or wind can cause the muscles to constraint, lead to pain and be counterproductive to the healing process."
Most practitioners use silicone or glass cups that create a vacuum using a pump. For chronic pain issues, most people require several sessions for a few weeks, and then a maintenance session about every three months. Kastner said that the effect varies depending upon the condition the client is experiencing and the individual himself.
Contraindications include people with wounded, thin or fragile skin; those who are immune compromised; or, for pregnant women, not on the abdomen. As with any therapy, clients should advise their practitioner of any health concerns before undergoing cupping therapy. Most practitioners complete a health history survey with clients to ensure they are appropriate candidates for cupping.
Some in Western medicine greet many integrative modalities with skepticism; however, cupping has gained credibility.
"It's a very useful tool," Kastner said.
Practitioners offering cupping may include massage therapists, physical therapists and acupuncturists. If the practitioner includes cupping with other modalities in a therapy session, it's usually covered by insurance.