By Jane Schmitt
It was horror on the field. But a ripple effect of Buffalo Bills' Damar Hamlin's cardiac arrest and emergency resuscitation is a dramatic increase in people signing up for CPR classes at area centers that provide American Heart Association training.
"Our phone has been ringing off the hook. We're getting call after call," said Michael Derme, program director for Buffalo CPR Inc. "I'm glad that more people want to learn these skills."
Now, as Hamlin continues his recovery following the Jan. 2 incident in Cincinnati, there's hope that education and training will lead to more lives being saved in acute situations where every second counts.
The need is clear: The AHA estimates that nearly 300,000 people die annually from sudden cardiac arrest. But the chance of survival can double or triple with immediate CPR.
"Seventy percent of the deaths occur outside a medical facility. So seven out of 10 people die at home or in a restaurant or shopping center, for example," Derme said. "One of the keys is how quickly you start CPR. If you start right away, they have an excellent chance of being resuscitated. It is Step 1 – let's keep them alive and then we'll try to find out what caused the heart to stop beating.
Know what to do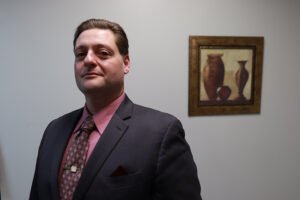 Emergency resuscitation via CPR and defibrillation is an important topic for people of all ages, said Roger Leising, managing member of WNY Healthcare Education & Equipment.
"It is horrific to be in a traumatic situation and not know what to do," he said. "The most therapeutic thing is to learn CPR so you can respond. There is nothing more important than knowing how to do CPR when you're in that situation and you can't get there without being trained."
Local centers teach critical first aid skills through hands-on, instructor-led courses for healthcare professionals and lay rescuers. They field inquiries not only from individuals but from organizations such as businesses and schools.
"The more trained people, the more lives saved. We cannot depend on our front-line heroes alone. We have to help them out as lay rescuers," Leising said. "The Damar Hamlin event was an eye-opener. It showed us the importance of CPR and defibrillation with an AED (automated external defibrillator)."
His students range in age from children to adults, many of whom learn what is called compression-only CPR for bystanders.
"We had a family with two young kids come in to learn CPR, and the 9-year-old boy said, 'I'm with grandma and grandpa all summer long. I want to be able to save Grandma's life someday.' Then the family went above and beyond and bought an AED for their household," Leising said.
'No, No, Go'
"This is real life," said Richard Shok, owner/director of Code One Training Solutions LLC. "Your actions in a chaotic moment could make a difference."
"Cardiac arrest does not look as it appears in movies and television," Shok added. "Those experiencing it can have involuntary movements, gasping breaths and even seizures. It's important to look past that and remember: No responsiveness, no normal breathing, start CPR. This is the 'No, No, Go' approach that 911 dispatchers use when coaching someone to do CPR."
Another positive that resulted from Hamlin's emergency is evaluation of AED protocols.
"We have seen a tremendous increase in requests for AED pads and batteries, which likely means that these devices were neglected and potentially unusable before this reminder," Shok said.
A final word comes from Robert Kasper, owner/president of CPR – The Pulse Center.
"As an EMS healthcare provider and a CPR/first aid instructor, I have worked many cardiac arrests and I am convinced that if the public took a couple hours every two years to learn the skills of CPR, we would have more successful outcomes for patients," he said. "To learn the basic skills of CPR is easy; to prepare for a cardiac emergency is another thing altogether."
Instruction covers how to recognize a heart attack or stroke and how they are different from a cardiac arrest, according to Kasper. Trainers present various scenarios plus instruction on how to call 911 or what to say to a dispatcher.
"CPR training will give you ease of mind when dealing with a cardiac event," he said. "Be it yours or someone else's."
CPR 101
In the event that someone is unresponsive or collapses, tap them on the shoulder to wake them up and shout, "Are you OK?" If no response, tell someone to call 911 and get an AED. Look for normal breathing (not gasping). If they are not breathing normally, start CPR.
Interlock your fingers and place one hand on top of the other. Lock your elbows and use the heel of your hand to push down on the center of the chest in line with the nipples, two inches deep. Keep pushing to the beat of "Stayin' Alive" or "Baby Shark." These songs are about 100 beats per minute and will keep you going at the proper rate. Keep doing chest compressions until help takes over or medical professionals arrive.
Courtesy of Richard Shok, Code One Training Solutions LLC