By Deborah Jeanne Sergeant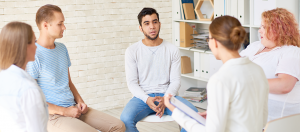 Perhaps you're interested in health, but a career in hands-on care isn't for you. Or maybe you enjoy communicating and sharing information, but teaching isn't the right fit.
Consider the role of community health educator. According to the Bureau of Labor Statistics, the entry level annual salary was $45,360 or $21.81 per hour in 2017 and the employment outlook for growth between 2016 and 2026 is 16 percent, much faster than average.
"There's such a need," said Susanna Speed, manager, innovation institute, oversees several grants for Trillium Health, which offers health facilities and health outreach projects in Rochester and Buffalo. "There's so much misinformation out there about health and it's so fulfilling to get in front of someone" and clear up misconceptions.
Speed said that the role can also include prevention education about eating right, healthy sexual behavior, exercising and immunization through programs in county departments of health, schools, medical centers and hospitals, all of which could be places where community health educators work. They may also collect and analyze data to evaluate where the community needs additional health education.
Most community health educator positions require a bachelor's level program and certified health education specialist credentialing. Master's level education is also available.
The position is growing in part because doctors and nurses lack the time to talk with people about preventive health. Community health educators help people understand the message of prevention in terms they understand, along with actionable steps to make it happen.
"The skills are very transferrable," Speed said. "People who are public health educators are needed in a lot of different places."
In some larger organizations, some degree of specialization may be required, as it may have departments related to immunization, family planning, or sexually transmitted infections; however, it may require experience as a general community health educator to get to that point.
Community health educators can advance to supervising the department at a larger organization, which may mean shifting from delivering the message of health to managing the program.
Helpful skills for the position include verbal and written communication, organization, collaboration, and science, along with "compassion, empathy, performing as a team, sharing knowledge and expertise and delivering excellence in service," Speed said. "When hiring someone, those are values I'm looking for and how they relate to people. When working with the public, there's no judgment. We all have vices and things that we do."
Theresa McCabe, public health educator and manager of the Healthy Neighborhoods program with Niagara County Department of Health, has always liked the variety involved with health education and working as a generalist.
"You have to be very flexible," she noted.
It's not likely something for people who enjoy specialization or a specific age group of people, since community health educators may speak with eighth graders about food borne illness one day and seniors about hypertension the next day.
McCabe has a degree in education and worked in the field, and has also worked in marketing and as a trainer. Those experiences have proven useful in her role in the department of health.
"If you're going to be a public health educator, you have to like people and not be shy," she said.
McCabe has created art and performed on stage in high school and college. Public speaking to crowds doesn't bother her. She also helps distribute information at festivals and provides presentations to schools.
Marketing and writing are also skills McCabe finds helpful, as she usually prepares her own presentations and sometimes her own handouts.
"It's really important for public health educators help people understand things and teach at the level they're at," McCabe said. "You don't have to change the message but the wording. The No. 1 rule of public speaking is to know your audience. If you're talking over their head, you're going nowhere or being condescending, you're going nowhere."
She thinks that anyone who wants to become a community or public health educator should obtain public speaking experience.
McCabe said that she feels her career is very rewarding. She recalled a man tell her that she saved his life because he heard her presentation on fire safety and began sleeping with his bedroom door closed. When his home caught fire, he remembered to feel the door first. It was hot, so he kept it closed and sought another route.
"A firefighter was able to save his life instead of him being engulfed in flames," McCabe said. "I like knowing I'm helping my fellow citizens. I've always wanted a health career where I'm helping people so it's a dream come true."