Encouraging organ and tissue donation is passion of double organ transplant recipient
By Daniel Meyer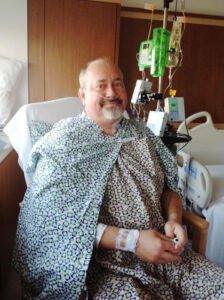 It is estimated that 90% of Americans support organ donation. Yet only 30% know the steps needed to take in order to become officially registered.
That imbalance is what drives Thomas Jasinski Jr. with his continued organ donor activism and advocacy in his role as the founder and executive director of One8Fifty, a nonprofit organization whose mission is to increase awareness of the need for organ and tissue donation.
Promoting a registration platform made available through Donate Life of America, One8Fifty wants to help people donate life by teaching them how to join the organ donor registration list and avoid any stressful situations for family members of someone who wants to be an organ donor.
A personal experience
Jasinski was diagnosed with end-stage renal failure in September 2010 and was placed on dialysis. Following a series of tests, it was determined he needed a kidney transplant. It was during that time period that Jasinski learned that New York State was in the bottom five of states for percentage of total population registered as organ donors.
"That lit a fire under me," recalled Jasinski. "I learned at that point the direct impact those low numbers have on the ability to secure an organ. At any given moment in time, there are approximately 9,500 residents in New York State awaiting organ transplant. The reality is about 500 of those people will die within one year simply because the organs they need to survive are not available."
Jasinski ended up receiving a kidney in September 2012 and in July 2013 received a pancreas transplant, meaning that for the first time in 33 years he was no longer defined as being diabetic and was an official double transplant recipient.
"I know how fortunate I am and will be forever grateful for the selflessness of others who made it possible for me to remain alive," Jasinski said. "I experienced a long and difficult journey and that is why I take on the challenge of moving New York up the list of states of registered organ donors."
What One8Fifty stands for
The marketing perspective of the unique name of the organization was carefully crafted with the mindset of wanting to create general curiosity and hopefully generate interest that results in people asking questions.
"After much thought and deliberation, we chose the name knowing that one person can provide eight different people with lifesaving organs and help dramatically impact at least 50 other people through tissue donation," Jasinski said. "We hear a lot about organ transplants, often hearts and kidneys and lungs, but more attention needs to be paid to things like skin grafts, corneas, cartilage for reconstructive procedures, blood donation and the need for bone marrow."
How someone can register to donate
Using the Donate Life of America registration platform, anyone in the country can become an organ donor. People can register using their cellular telephone by texting the word "register" to 57838. There is also a user-friendly option for registration available online at www.one8fifty.org as well as online via the official website of the New York State Department of Motor Vehicles.
"I do want to stress that no matter what someone's wishes are that they openly communicate that with their family and their friends," Jasinski said. "We want to help cut down on stress, avoid difficult decisions and not put additional pressure on people in the moments after there is a death in the family. If everyone understands the wishes of the deceased it improves the process of organ and tissue donation because everyone is aware because it is in writing and conversations previously took place prior to the point of death."
Community partners are needed
Jasinski and other representatives of One8Fifty work tirelessly as advocates for organ and tissue donation, making numerous speaking engagements and other public appearances.
Their belief in organ donation allows for them to educate others about the dire need, especially in Western New York.
"Funding is always an issue, so I want everyone to know that we are always open to anyone who wants to support us financially," Jasinski said. "It's also important to note that nobody should rule their ability or eligibility to be a donor because there is no specific and clear-cut decision about you being too old to donate or too young to donate. There are variables and certain circumstances on what can be used. A living donation is also a viable option and what I believe is a crucial consideration for people who are waiting for transplants."
For more information about organ and tissue donation, visit www.one8fifty.org.
Photo: Thomas Jasinski's tireless advocacy efforts include regular media appearances on local radio and television programs such as "Senior Matters With Buddy Shula" on WECK 1230 AM.