By Nancy Cardillo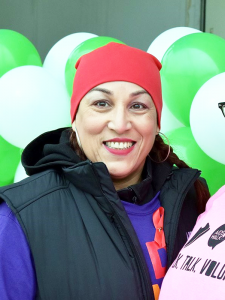 Liza Pereira is a retention support assistant at Evergreen Health, a Buffalo-based nonprofit organization that provides medical, supportive and behavioral services to individuals and families living with HIV throughout Western New York. She loves her job because she knows she helps people every day. She also knows firsthand how vital are the services Evergreen provides, because she's also an HIV-positive recovering drug addict.
"I started using drugs when I was 19 and living in Buffalo," says Pereira. "It got out of control to the point that I was in prison at various times for selling drugs and for petit larceny. My life was spinning out of control."
During one of her incarcerations, Pereira took a long hard look at the women around her — some serving life — and realized she didn't want to end up like them. She went through detox, long-term drug rehabilitation treatment and while she was in a halfway house in Niagara Falls, something "clicked," and Pereira knew her life was heading in a positive direction.
"I was introduced to Narcotics Anonymous," she said. "I went to meetings regularly. I found positive people to be in my life. I found employment and housing. Things just snowballed from there, and today I'm 19 years clean, with four kids and seven grandsons and working at a place I love."
Before becoming an employee at Evergreen Health, Pereira became a client, when her healthcare provider moved from Erie County Medical Center to Evergreen. She says following him there "was like finding my home."
"Evergreen helped me with my recovery, they help me take good care of myself and my health, helped me find housing and when I was struggling financially. They don't judge me at all and they support me as a client, an employee and, most importantly, as a human being," says Pereira.
Evergreen Health was founded in 1983 to address the HIV and AIDS crisis in Western New York. As breakthroughs in medical therapy were made for HIV and other sexually transmitted infections, the organization broadened its range of life-enhancing services beyond HIV care to support its clients' ability to lead healthy, secure and satisfying lives.
In 2012, Evergreen restructured to accommodate the ever-broadening programs and services it provides.
Today, the organization serves all of Western New York, providing medical, supportive and behavioral services to individuals and families — especially those who are living with chronic illness or who are underserved by the healthcare system. The organization includes the Evergreen Foundation, Pride Center of WNY and Community Access Services.
"Dealing with the healthcare system can be extremely daunting, particularly when you're ill or have other life issues to deal with," says Ray Ganoe, Evergreen's CEO. "At Evergreen, our mission is to make accessing care easy for everyone, to help our clients live their happiest lives."
Evergreen's services include support for chronic illness — including counseling and housing programs; HIV care and prevention; LGBQ and transgender services; sexual health and substance user health and hepatitis C treatment.
In 2016, nearly 11,000 individuals — ranging in age from infant to 60-plus — utilized services provided by Evergreen, including the medical clinic and pharmacy, counseling services, housing placement and more.
Since becoming a full-time employee at Evergreen two years ago, Pereira earned a college degree in marketing (with Evergreen's support) and has become a vocal advocate for the agency.
"People say, 'Once an addict, always an addict,' but that's not true," says Pereira. "When you have people who believe in you and places like Evergreen that offer all these great services and support, you can turn your life around. I did!"
For more information about Evergreen Health Services, visit www.evergreenhs.org or watch the video at www.youtube.com/watch?v=PuYvAAonoOg