Sure, detox pearls are trendy, but do they work? Experts recommend women not use them
By Deborah Jeanne Sergeant
Two generations ago, young women were advised to douche to achieve feminine hygiene. Today, the trend is detox pearls, also called yoni pearls or gems. 
These cloth-covered balls of herbs are inserted into the vagina and are purported to clean the vagina, "detox" the uterus, improve fertility, reduce inflammation, promote circulation, stop odors, clear up cysts and remove dead cells.
Just because something is popular does not necessarily mean it is a good idea. Numerous studies indicate that douche does not offer any health benefits and can cause problems with vaginal health. Yoni pearls are similar in numerous ways.
"A lot of these products are predatory, frankly, on women's insecurities about vaginal health or cleanliness," said gynecologist Faye Justicia-Linde, affiliated with UBMD Obstetrics & Gynecology. "It's not dirty. The vagina self-regulates to have helpful bacteria like those that live on our skin. Anytime you put in things, it can cause problems. Any of these douche products in general aimed towards vaginal health and cleanliness are more for marketing and extracting money from customers.
"They target teens, especially. Vagisil has a targeted teen product: orange creamsicle-scented products for the vagina. It preys on self-image of young, vulnerable girls and reinforces a cultural idea that vaginas are dirty and sexuality is dirty and you need to do something to make it OK.
"Axe body spray says it's OK and manly to be sweaty after a long day's work. It's hyper-masculine and desirable, but women are intrinsically dirty."
Trying to fix the "problem" with yoni pearls can actually cause problems.
Justicia-Linde, who is also an assistant professor at Jacobs School of Medicine and Biomedical Sciences at UB, warned about the texture of the mesh cloth, which could irritate the vaginal wall.
Those who sell the pearls claim that the discharge observed after removing the products proves they work. However, Justicia-Linde warned that the foul-smelling discharge could indicate an infection caused by the pearls. Pearls may also cause cramping as the body tries to expel the foreign object.
"The uterus is a sterile environment," Justicia-Linde said. "If we do cervical procedures, we have to use a cleansing agent on the cervix first to avoid introducing anything from the vagina to the uterus. You would have to get past the cervix. You would cause more harm than good to push something upwards. It's not a place we want bacteria present."
Using douche or pearls "disturbs the balance of the cervix and vagina," said Manju Ceylony, gynecologist and women's health medical director at VA Medical Center in Buffalo. "Nature has a good way of protecting women. Inside the cervix and vagina are protected by local bacteria. It's very much like hydrogen peroxide to keep the vagina clean. Anything that reduces that protective barrier increases risk of infection. It can cause bacteria to lodge there. These bacteria can travel upward to cause pelvic inflammatory disease, and other infections. The vagina and cervix keep themselves healthy."
Tampons should not remain in the body for more than eight hours because of the risk of toxic shock syndrome. However, yoni pearl producers advocate leaving their product in the vagina for 24 to 72 hours, which allows more time for bacteria to build up on the pearls.
"Anything we put in can irritate the surfaces and the cervix, which is the opening of the uterus to the vagina," Ceylony said. "Using douche has shown it increases risk of ectopic pregnancy as much as three times."
Ectopic pregnancies occur in the fallopian tubes or elsewhere and cannot be carried to term.
While manufacturers may claim that yoni pearls' herbs mean that they are natural, inserting herbs into a body cavity is much different from ingesting them and does not necessarily mean they are safe used in that way.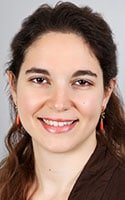 "There are lots of natural things that aren't good for you, like foxglove," Justicia-Linde said. "You can take herbs and poison people just as easy as you can cure them. There's not necessarily an equivalent between something natural and something that's safe and healthy."
As with any other supplement, the pearls have not been FDA-approved for use, so it is unclear what they contain.
Justicia-Linde said that a small amount of clear to white vaginal discharge is normal.
"There shouldn't be odor, pain or itching," Justicia-Linde said. "If you see green, brown or gray, that could be an issue. Most odors are sweat and trapped gastrointestinal gas, which affects men and women."
As for cleaning, she reminds patients that "the inside of the mouth and vagina are the same kind of skin. If you wouldn't swallow soap, don't put soap in your vagina."
Use only mild soap on the outside.
Women concerned about vaginal discharge should seek help from their healthcare provider instead of inserting anything into the vagina.