Local shoppers ecstatic with the opening of first Whole Foods in Western New York. "It's like Christmas for me today," says a shopper
By Julie Halm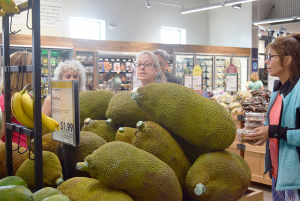 If one were to pull up to Whole Foods Market at 3097 Sheridan Drive around 9 a.m. on Friday morning, they could only assume that on its opening day, the store was giving away food — good food.
The parking lot had a Black Friday feel to it. The long-quiet neighboring Northtown Plaza in Amherst, mostly void of business, was brimming with the countless dozens of overflow vehicles belonging to enthusiastic shoppers.
Heather Danat found a spot at the back of the lot and over her car's speaker phone, a friend could be heard exclaiming, "Have fun!"
So what was all the hype about?
For Danat, the store offered options for her child who has restrictions barring dietary dyes, preservatives and artificial flavors. She has visited a Whole Foods in Arizona where some family lives and really liked what she saw.
"I spent $80 to ship food home from there," she says.
Upon entering the store, shoppers find themselves in the produce section and a world of fresh colors. Signs on the walls proclaim the store's values: commitment to local sources, healthy options and looking after the environment, among other tenets. There's variety, too. Everything from standard bananas hanging up high to jackfruit the size of many of the children who parents have in tow.
And people are buying what they're selling.
"We're out of carts, but I have this basket," an associate says to one customer.
Further in, a customer could be overheard telling an associate, "It's like Christmas for me today! I usually go to the Whole Foods in Columbus. I took the day off of work to be here."
Lisa and Joe Breton came with their three children. As a vegan family, they were excited about the opening of the store.
"And we're able to walk down the aisles without being bombarded by cartoon characters," adds Joe.
He's right. Many brands will be new to the average shopper and most sport labels proclaiming, "Non-GMO" or "Gluten Free" or other health-conscious traits. Even products aimed at children are more likely to have pictures of real animals than brightly-colored illustrations. A giant neon sign on the wall reads simply, "America's Healthiest Grocery Store."
Beyond all of this, there is an interesting variety of options when it comes to departments in the store. A shopper can grab a hot breakfast, fresh sushi, peruse the raw, fresh pasta for sale or fill a growler with Kombucha in a variety of flavors. There is, of course, a deli, a bakery, a coffee shop, a salad bar and even a kebab station all churning out fresh food.
Perhaps the youngest shopper who is a little too sleepy to take in all of this belonged to Susie Burns. How old?
"Two weeks…tomorrow," she says.
Burns, her mother, and her older son have come out to see what all the fuss is about. Grandma Debbie Hugar stands watch over the children so her daughter can have a look around.
"Mom wanted to check it all out and she's clearly liking what she's seeing," laughs Hugar.
And clearly, she's not the only one.