HIV: Stigma and reaching the under-served population, particularly the trans population, is the main challenge faced by Evergreen Health, says its chief medical officer
By Chris Motola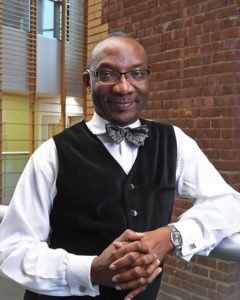 Q: Can you give me an overview of the services Evergreen Health provides?
A: Treating the under-served population with HIV, that's how we got started. We're broader than that today. Today, we provide medical, supportive and behavioral services, especially for those who are living with chronic illness. So, apart from treating patients with HIV, we also treat patients who use substances and who need mental health services, to name a few. All of what we do is toward achieving the goal of ending the epidemic of HIV.
Q: What are some newer developments in HIV treatment?
A: We offer rapid treatment for HIV, which is something new and exciting to be involved in, just how quickly you get someone's infection suppressed, or become undetectable. We used to have to wait months to start medication. Now someone can walk in the door and get evaluated and, if they're ready to start medication, can be provided medication as soon as possible.
Q: From other specialists I've talked to, it seems like the big focus with HIV treatment right now is to stop the transmission. What are the most effective ways of doing that?
A: The first thing is diagnosis. About 30% of people living  with HIV don't know they're infected; they assume they're negative. So we need to identify them and treat them. And if we can get them and keep them in care, we are good. Outside education helps. Beyond that, we want to keep people from being infected at all. Promoting condom use. Preventing risky behavior. Using PrEP. Using clean needles.
Q: It sounds like one of the harder parts is getting people into the system in the first place.
A: We have people who go out into the community. They go out to the clubs. It's still hard to do though, because sometimes you don't know how it will be perceived by the recipient. But we're working hard day-to-day to engage the population we just talked about. But there can be trust issues. An example, without getting too far off track, would be people who are anti vaxxers. But our main goal is getting to the at-risk population to provide education programs to get them engaged and understand what they're dealing with.
Q: As HIV has become more manageable, we don't hear about it quite as often as we used to, but my impression is there's still a lot of stigma attached to it. How do you work around that?
A: Well, you know what, you're very right. If you can take the stigma off the table, it goes a long way toward solving the problem. You can see how tough it is for an individual with HIV to come here or talk to their family members. It's no longer front-page news, because we've done a pretty good job keeping people alive, but that also makes it easy for us to become complacent. We have some cultural barriers, especially within some high-risk communities who are very resistant to outreach, but sometimes it just takes one person from a community or family to be affected and say, "uh oh." I've seen that often in my own experience.
Q: Containing the disease is a global effort. Having come from Nigeria and now working in the United States, do you see ways countries can collaborate to stop transmission? Are they cooperating?
A:  My Nigerian background and experience does help me understand the disease from a certain perspective. I see the two sides. I talk with colleagues back home about what they're doing and how they are doing it. There are a lot of issues they have to struggle with that we don't with getting medications to patients.
Q: What are some of the challenges particular to Buffalo?
A: Dealing with the stigma and reaching the under-served population, in particular the trans population. They're dealing with a stigma double whammy of being transgender and living with HIV. We do provide inclusive care for  transgender people to help keep them healthy. I think we're better than a lot of the places that I do know, but we could still be better.
Q: As medical director, what kind of impact do you want to have on Evergreen?
A: The impact I'm always trying for  is to keep growing, and making sure I'm providing as much as I can for our patients. We do our best here. I work with a team that makes it possible. My patients are part of the team. Without that teamwork, there would be no success.
---
Lifelines
Name: Fatai A. Gbadamosi, M.D.
Position: Chief medical officer at Evergreen Health
Hometown: Nigeria (cities of Jos, Osogbo and Lagos)
Education: University of Ibadan College of Medicine; Columbia University
Affiliations: Erie County Medical Center, University at Buffalo
Career: in the U.S.: Evergreen Health chief medical officer (since June 2017); Evergreen Health, medical director (from 2005 to June 2017); Jordan Health Center, Rochester (chief internal medicine, attending physician (2001 to 2004); attending physician at Geneva B. Scruggs Health Center in Buffalo (1999 to 2001)
Organizations: American College of Physicians, American Academy of HIV Medicine
Family: Married, two children
Hobbies: Travel, jazz concerts, driving