Children with physical, mental disabilities stay active throughout the year
By Daniel Meyer
"The one constant through all the years has been baseball. It is a part of our past. It reminds us all of that once was good, and that could be again."
That line was stated by James Earl Ray in the 1989 movie "Field of Dreams." And for about six dozen children who have either a physical or mental disability, it is something that motivates them to stay in shape throughout the year.
With the most recent Major League Baseball season having ended and another World Series champion having been crowned, the sport of baseball is in the back of the minds of many until next spring. But for approximately 75 ballplayers who gather each Wednesday night during the summer months, it is the beginning of their off season and a chance to reflect on another fun season on the diamond while counting down the days until they hear the first call of "play ball" for 2018.
The Kyle Reid Memorial Challenger League is an organization that allows children with any physical ailment or mental disability to play baseball with only one  requirement — that they play with lots of heart.
"What we have with our league is a special gathering of kids who love the game so much that it is something that is on their mind all year long," says Mike O'Donnell, who for the past five years has served as commissioner of the baseball league. "Yes, we play baseball in the summer, but this league is so much more than that. There are other things we do throughout the year and it's the social component and the networking that parents and other family members and friends do that make it truly special."
Named after the late Kyle Reid, a Hamburg resident who died in 1998 at the age of 13 after a seven-year battle with cancer, the baseball league was formed in 2000 in the hopes of keeping Reid's love for baseball and other sports alive in spirit by providing children with disabilities a chance to stay active and regularly exercise. Open to children and young adults, the league's regular season normally runs from late May through early August, with weekly games played each Wednesday evening at Howe Field in Hamburg.
In addition to the action on the diamond, other activities held throughout the year — including swimming at the league's annual pool party, marching in the village of Hamburg's annual Halloween Parade and bowling and dancing outings —keep players in shape and in touch with one another.
While similar leagues are run in North Tonawanda, Niagara Falls and other Western New York communities, the Hamburg-based organization includes boys and girls with special needs who live in Eden, Boston, Blasdell and Lake View. Receiving support from the Village of Hamburg Recreation Department and the Hamburg Central School District, the league has grown from 40 players who gathered at Hamburg's Legion Field for its inaugural season in 2000 to approximately 70 to 75 current players.
"This gives them the chance to play just like all the other kids," says Bonnie Brown, whose daughter Elizabeth began playing at age 12 and still competes now as a 30-year-old woman. "They can show they can play ball just like anyone else. The kids love it, the parents love it and we talk about it and look forward to it all year."
Using a "buddy system" format while in the field, the rules are altered to fit each individual's particular skill set and adapt to their specific physical or mental limitations. Players are able to exercise by playing in the field and batting and each game ends in a celebration that includes the serving of refreshments.
"I love it because I've made a lot of really good friends," says Elizabeth Brown, one of the players. "They call me the 'one hit wonder' because every time I hit the ball it is a home run. I love playing baseball and I stay in shape because I want to be able to run the bases really fast."
Players and parents who have established relationships from the league interact during the offseason by engaging in other physical activities, including swimming, camping, hiking, bicycling and walking. While those activities are enjoyable, they always focus on the eventual return of hitting, pitching, fielding and running.
"Seeing the smiles on each kid's face is what makes it all worth it," says O'Donnell, whose 14-year-old daughter Kelly has Down syndrome. A player in the league since age 6, she is already gearing up for next season. "She loves getting the exercise and just having a great time with her friends. And the mental health part of this is huge. The kids get so excited and look forward each week to playing. The friendships are important to the emotional and mental well-being of each one of the kids and we have seen some of the kids become really great friends after meeting on the ball field."
---
All About The Kyle Reid Memorial Challenger League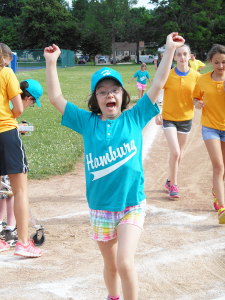 What is a "challenger league?"
A challenger league (also referred by some as a "miracle league") is little league baseball's adaptive program for individuals with physical and intellectual challenges.
Who can participate?
Individuals with a physical or intellectual challenge may participate. The Kyle Reid Memorial Challenger League accommodates players aged 6 to young adult, with no maximum age for those players who wish to continue playing after age 18.
Is there a cost?
Each local challenger league sets its own policy with respect to registration fees. In most cases, no player may be denied the opportunity to participate based on the inability to pay a registration fee. For the Kyle Reid Memorial Challenger League, an annual $30 fee covers all family members who play.
What rules are followed?
Flexibility and adaptability are key during challenger games. Typical games are a few innings long and last about an hour. All players play in the field and bat each inning.
What are "buddies"?
Buddies are individuals who assist challenger athletes with batting, base running and playing defense as needed. Some buddies are students who play baseball or softball themselves or are volunteers from local recreation departments or youth bureaus.
How many challenger leagues are there?
It is believed there are currently close to 1,000 challenger programs in 10 different countries from around the world. An estimated 30,000 athletes participate, including a handful of leagues based in WNY.
Contact information
For more information about the challenger league, including how to register your child to play in 2018, call Nick Gallardo at 716-649-6170.