Experts offer seniors strategies on how to eat healthfully on a tight budget
By Deborah Jeanne Sergeant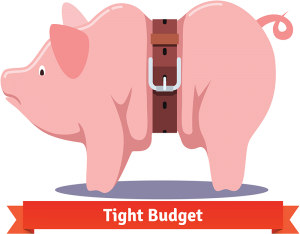 If you're a senior with a fixed income, it may seem difficult to eat a well-balanced diet. Food prices increase, but your grocery budget doesn't. With some planning, you can eat healthfully. Local experts offered a few strategies to help stretch your dollars and find the most affordable nutritious food.
Saving money on your overall grocery bill can help you better afford healthful foods, such as lean sources of protein and a variety of whole fruits, vegetables and grains.
Purchase ingredients, not prepared foods, said Mary Jo Parker, certified dietitian nutritionist, who owns a self-named nutrition business based in Buffalo. She recommends purchasing chicken when it's on sale "to prepare it ahead of time and freeze it or package it raw in individual pieces," she said.
If you have cooked the meat, all you need to do is take it out of the freezer and place it in the fridge the night before you plan to heat it and eat it.
Choose inexpensive cuts of meat and slow cook or use a meat mallet to tenderize. Lentils and beans provide a good source of economical protein, plus fiber. Parker recommends rinsing canned beans to reduce the sodium content.
The dietitian added that eggs and nut butters can also offer versatile and inexpensive sources of protein, especially if dental issues make meat difficult to chew. Cottage cheese and Greek yogurt also provide protein and calcium inexpensively.
"Canned fish is pretty reasonable and a wonderful source of protein," Parker said. "Tuna, salmon, sardines are very rich in heart-healthy omega-3 fat.
For produce, she advises clients to shop at farmers' markets for seasonal fruits and vegetables to help save money. But after summer, frozen foods can help trim costs. Since they're flash frozen after harvest, they may retain more nutrients than fresh items shipped to the store several days after harvest.
"Usually, when we're talking about canned items, they tend to be higher in sodium and less nutrient dense," Parker said.
The processing reduces its nutrients.
Tap into savvy shopping strategies, such as planning meals for the week around what's on sale, and comparing prices of generic items versus the price of a name-brand item on sale and/or with a coupon. Always compare the unit price, not the general price. Most stores indicate the price per weight or volume on the shelf tag in smaller print in a small orange or yellow square. That way you can know you truly have the best price.
Cooking at home offers the highest nutrition and best savings since you're in control of what goes into your meals and you're not paying anyone else to cook for you.
Online Sources
Research websites that can help you cook more economically, such as  www.jsyfruitveggies.org, which features seasonal recipes; www.cookingmatters.org, to find recipes that focus on pantry staples; www.ewg.org/goodfood, for great tips for finding nutrient dense foods in each food group and www.leannebrown.com, which offers a free PDF copy of Good and Cheap a cookbook that can feed a person for $4 a day.
The USDA's site — www.whatscooking.fns.usda.gov — shows how much a particular recipe costs to make. Users can search for recipes based on numerous filters, too.
Eating away from home can perk up a flagging appetite and provide a variety of foods with a different nutritional profile.
Bob Angelino, site manager for Kenmore Senior Nutrition in Buffalo, agrees.
"Would you rather eat alone or with someone else?" he asked.
Instead of dining out at restaurants, consider joining community meals. Many churches host free meals or dish-to-pass meals open to the community and advertise them in the shopping flyers and newspapers.
Angelino's organization receives subsidized meals from Erie County to serve to seniors at lunch Monday through Friday for $3.50, although no one is turned away. Plus the center receives day-old baked goods for distribution to seniors to take home.
If you need help to afford enough nutritious food to eat, food pantries operated by churches and other charitable organizations may help you. Erie County lists food pantries, senior dining services and grocery delivery services for seniors at www.erieco.gov under the "Seniors" tab.