By Deborah Jeanne Sergeant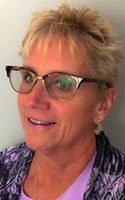 For Doreen Fahey of Buffalo, the love and support of her family meant a significant difference while undergoing treatment for breast cancer.
Still working as the education/event director for Buffalo Niagara Association of Realtors, Inc. in Amherst at age 58, Fahey was diagnosed 11 years ago.
She said that in one sense, she did not feel terribly surprised at her diagnosis. Her sister was also diagnosed with breast cancer at the same age and several other family members have experienced the illness.
Fahey discovered the lump during a routine mammogram. Despite her family's encounters with cancer, "I didn't know what to expect," she said. "I phoned a friend, but I didn't know if I was supposed to go to a gynecologist."
Her immediate biopsy confirmed her fears: she had cancer, caught at stage 2.
The American Joint Committee on Cancer has designated the stages of breast cancer as from stage 0 (low level) to stage 4 (highest level). The stages are based upon many factors, including size of any tumor present and whether or not the disease has spread to other areas of the body.
Fahey received a lot of information right away about her options, but she found it difficult to focus right away.
"You hear 'cancer' and you say, 'What?'"
She chose lumpectomy, which she followed with eight standard chemotherapy treatments, five days of radiation, and, since she was found to be HER2 positive, a year of weekly chemotherapy infusion treatments.
According to the Mayo Clinic, "HER2-positive breast cancer is a breast cancer that tests positive for a protein called human epidermal growth factor receptor 2 (HER2), which promotes the growth of cancer cells."
This makes the cancer more likely to be aggressive compared with other breast cancers.
While Fahey is thankful for treatments that could effectively treat the disease, "support is the key to survival," Fahey said. "I have six sisters. I was never alone for a chemo treatment."
She received a high intensity, targeted regimen of radiation for five days instead of the usual weeks of treatment.
"It was pretty intense, but they told me to go this way and I went for it," Fahey said. "I felt a little tired. I continued to work, even with the chemo. You have good days and bad days. And I'm thankful for the better days."
She felt that keeping her daily routine as normal as possible and keeping busy helped her while undergoing treatments. She didn't fall prone to stewing over her health that away. She also tried to remember that omeone else always has it worse," she added.
Overall, from surgery through the last treatment, it took her about a year and a half to become cancer-free. She joined Hope Chest Buffalo in Getzville seven years ago and enjoys the opportunities to exercise with other members paddling a dragon boat or kayaks and golfing. Fahey also enjoys spending time with her family any time she can.
A dragon boat accommodates 20 rowers in a single line.
"You have to," she said. "Even if you didn't have cancer, anything can happen at any given point. Be thankful and kind. Live every day. Do what you have to do to keep healthy. Follow up with your visits. Early detection is essential."
Photo: Doreen Fahey propelled off the side of the Seneca Niagara Casino as part of a fundraiser for Special Olympics in 2016.