This summer, don't just take advantage of all there is to do near the water…get out there on the water!
By Nancy Cardillo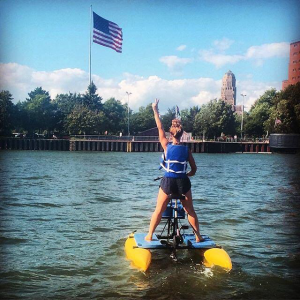 Western New York summers might be short, but we certainly know how to make the most of those lazy, hazy crazy days by boating, sailing, swimming, touring, fishing and, yes, even biking on the many waterways that frame our region — including two Great Lakes and the mighty Niagara River.
If Paddling's Your Pleasure…
If you'd like to enjoy a slightly different view of the Queen City, either on your own or in a group, try kayaking or stand-up paddleboarding. There are plenty of places where you can rent everything you'll need, including Buffalo Harbor Kayak; Elevator Alley Kayak or Silo City Paddling Co, and they're both great ways to leisurely explore the beautiful city from the water.
Come Sail Away!
Have you ever driven along Interstate 190 and noticed the colorful sailboats dotting the water … and wished you were out on one? Well, you can be! There are many ways to enjoy sailing in Western New York. Never sailed? Take lessons through Buffalo Harbor Sailing Club's Discover Buffalo Sailing program or through Seven Seas Sailing Center.
"Sailing is more than just fun in the sun," says Diana Augspurger, past commodore of Buffalo Harbor Sailing Club. "It's the ultimate stress release that will lift you from your everyday world. Everyone who has a love of water should try sailing at least once. To feel the strength of the wind as the boat glides through the water without the use of a motor is exhilarating."
Want someone else to do the navigating while you relax and enjoy? Charter a boat through Seven Seas or Make Sail Time.
Let's Go Cruisin'
Looking for a different way to celebrate a birthday, anniversary or other special occasion? Cruise options abound, including the 56-foot long, 31-inch wide MoondanceCat catamaran, which can accommodate up to 75 for group charters and includes wet bar, enclosed seating and dining area, sound system and plenty of space to tan. On the Spirit of Buffalo, a classic 73-foot topsail schooner, you can enjoy day, evening and sunset sails, along with special events, such as children's pirate cruises, craft beer cruises, educational excursions and Wine in the Wind. You can also book this beauty for private charters.
Buffalo Harbor Cruises has been sailing the local seas for more than 40 years, offering sightseeing cruises, party cruises, corporate events and private charters aboard the Miss Buffalo II on routes that include the Buffalo River; Outer Harbor; Lake Erie; Niagara River and the Black Rock Lock and Canal. The Grand Lady is the area's only dinner cruise vessel, and boasts both public and private cruises. Enjoy a lazy lunch and sightseeing cruise or an evening happy hour and dinner cruise. It's also available for private charters.
For a unique cultural experience, cruise through history on any one of a number of boat tours offered May to October. Buffalo River History Tours offers narrated tours that tell the story of the Erie Canal and Buffalo's history as the largest grain port in the world as you gaze at the magnificent structures that helped drive its growth so long ago. There are also relaxing cruises that tour the Buffalo River, Harbor and Canalside.
There's no better way to experience one of the wonders of the world — Niagara Falls — than being up close and personal on the Maid of the Mist boat tour. You'll enjoy amazing views and the thundering roar of 600,000 gallons of water falling right before your eyes — it'll be the ride of your lifetime.
Biking…On The Water?
Yes, definitely! Water Bikes of Buffalo offers unique ways to experience our waterways: via water bikes, adult pedal boats and children's paddleboats as well as stand up pedal boards. If you want to pedal, party and float, try Buffalo CycleBoats, the area's only human-powered cycle boat. Or take a relaxing tour around Buffalo's Inner Harbor on a Hawaiian style tiki hut through Buffalo Tiki Tours, which offers a variety of cruise options (including onboard weddings). And here's a great way to enjoy the natural beauty of Delaware Park: rent a quaint wooden rowboat and paddle around serene Hoyt Lake.
Angling For a Good Time
Fishing is an extremely popular sport here in Buffalo. Whether it's smallmouth bass, walleye, muskellunge, trout or salmon, our waterways are thriving with opportunities to cast your line and enjoy a relaxing experience. Go out in your own boat, or take a charter through Jim Hanley's Fishing Charters, Niagara River Fishing Charters, Lake Erie Fishing Charters or Sparky's Fishing Adventures.
Want the Boating Without the Hassle?
Here's a great way to enjoy the benefits of boating without the hassle and expense: join Buffalo Boat Share. Members enjoy a seasonal recreational boating experience for far less than the cost of normal ownership. It's "everything you love about boating, without the hassles!"
And, last but not least, there's the Queen City Bike Ferry. OK, its main purpose is to shuttle bicyclists and pedestrians between Buffalo's inner and outer harbor, but still…it's a watercraft that gives you access to such attractions as Wilkeson Pointe Park; Times Beach Nature Preserve, the Chinamen's Lighthouse and more.