By Deborah Jeanne Sergeant
Walking laps, playing a sport or following an exercise video can help you improve your health. But dropping pounds and gaining muscle is harder now than ever before. Especially if you're mid-life and looking to get in shape, consulting with a personal trainer may help you improve your chances of achieving your fitness goals.
Here's why, according to a few local experts.
• "Working with someone who can guide them is safer and is more enjoyable so they're stick with it.
• "I'd say to someone middle aged or older looking at starting an exercise program, that's fantastic but they should make sure they can safely do so. They should be seen by their primary care provider to see if they can safely do this. Their primary may give a thumbs up or thumbs down."
— Physician Michael S. Freitas, a primary care sports medicine physician, at UBMD Orthopaedics & Sports Medicine, and associate professor, Jacobs School of Medicine and Biomedical Sciences, UB.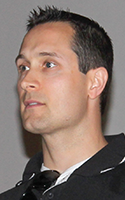 • "The vast majority of personal trainers don't understand the science of movement. Finding a good personal trainer is every bit as hard as finding a good mechanic or financial adviser. It would probably be helpful to look for a facility that has functional medicine and physical therapy with sports medicine or someone that is functional movement system certified.
• "Be very wary of crossfit. the injury rates are through the roof. any physical therapist will tell you that they get a lot of clients through it. i'm sure there are some crossfit people who understand movement, but we see a lot of clients who are hurt doing it crossfit.
• "Many, many people buy workout CDs and videos, watch stuff on YouTube and use apps. The vast majority is really, really bad stuff that will hurt people over a period of time. It's terrible.
• "The certifications won't guarantee you'll stay injury-free, but it increases the likelihood.
• "Multiple physical therapists referring the same trainer also helps. Movement is medicine but if you don't understand movement, don't prescribe it. A lot of trainers don't understand movement and they hurt a lot of people."
— Joe Fox, certified personal trainer, certified functional movement systems professional, and president and founder at Train Smart, Williamsville.
• "The motivation of that relationship will keep the person coming back to the facility or wherever they're training. The relationship between the trainer and the health seeker is significant.
• "The personal trainer can make modifications in relation to injuries they've had or osteoarthritis or joint issues. They have professional knowledge the person might not have on their own.
• "The personal trainer has knowledge of equipment, proper alignment which is significant as we age and it's more important to be aware of this to avoid injury to bones, joints. Personal training is an excellent avenue.
— Mary Shaw, active older adult coordinator for Ken-Ton Family YMCA in  Kenmore.
• "Hiring a personal trainer helps big time. Clients learn the proper way to do things if they haven't worked out in a while or never.
• "Motivation is a big reason to hire a personal trainer.
• "For a lot of people, scheduling an appointment 'forces' them to come in.
• "Paying for something–as opposed to going for walks or working out at home-motivates people to use what they've paid for.
• "Personal trainers help their clients progress toward goals. For example, I find a lot of people working out every day use the same weight for the same exercises. It's beneficial for a while, but eventually, they stagnate in their progress. I had a couple people who'd used the same weights for the past six months. It had gotten easier, but they hadn't increased the weight.
• "It can get you revamped to feel good about yourself. If you stay active, you look and feel better as you age. Being able to go up and down stairs is beneficial. By doing strength training, it helps you stay stronger. Personal trainers can help people do that."
— Andy Cowan, fitness director, certified personal trainer at LeRoy Physical Therapy and Village Fitness with locations in Macedon, LeRoy and Batavia .