Roswell oncology dietitian: "There is strong evidence suggesting that a healthful diet, rich in a variety of vegetables, fruits, whole grains and legumes or beans, and low in red and processed meat can fight cancer"
By Tim Fenster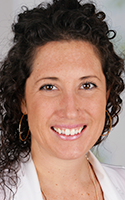 Most everyone knows that a good diet, when part of a healthy lifestyle, can reduce your likelihood of developing some forms of cancer.
But should that dreaded diagnosis come, maintaining a nutritious and healthy diet will be more important than ever.
Rachel Simson, a clinical dietitian with Roswell Park Cancer Institute, says research has shown that people who eat healthy and maintain a healthy weight tend to have fewer complications and a better quality of life during treatment.
"There is strong evidence suggesting that a healthful diet, rich in a variety of vegetables, fruits, whole grains and legumes or beans, and low in red and processed meat can fight cancer," Simson said. "This general pattern of eating provides vitamins, minerals and phytochemicals that can help to defend the body against cancer and other diseases."
A good diet is crucial whatever the type of cancer, Simson added. However, both the type of cancer and the method of treatment can cause varying side effects, such as loss of appetite, nausea, vomiting, constipation, diarrhea, mouth sores, taste alterations, or smell sensitivities.
Often patients who are undergoing chemotherapy for a neck or head cancer will have difficulties swallowing.
It's a clinical dietitian's job to help patients maintain a full and healthy diet in spite of these challenges.
"An important part of what oncology dietitians can do is suggest foods that are likely to be best tolerated for a given individual," Simson said. "Adequate calories and protein are important to optimize nutrition during treatment, and that's another important element we pay close attention to."
Consider the whole picture
Of course, appetites are not the only factors to determine a diet.
That is why Roswell dietitians also have to take into account a variety of lifestyle factors — a person's tastes, living situation, and access to grocery stores.
"Does the individual live alone? Do they cook for themselves? Do they have access to a grocery store? Do they need Meals on Wheels? All these factors will ultimately affect a patient's dietary needs and nutritional status," Simson said.
Dietitians also must take into account a patient's personal knowledge of nutrition. Many patients at Roswell are well informed and interested in nutrition, but naturally there are others who know a good deal less about healthy eating.
The importance of nutrition does not end with remission, or a cancer-free declaration for that matter.
The American Institute for Cancer Research recommends cancer survivors follow the same dietary recommendations it offers for reducing the risk of cancer — lots of vegetables, fruits, whole grains, legumes, and less red and processed meat.
Although nutrition is crucial to fighting cancer, it is not a cure all. Some alternative cancer treatments promise that a certain diet — commonly an all-raw diet — can cure a person's cancer.
Simson said patients should have a more holistic view of nutrition's role in fighting cancer.
"There is no one single food or combination of foods to prevent or cure cancer. If strawberries cured cancer, everyone would eat them and no one would have cancer," Simson said. "It's the variety of healthy foods — fruits, vegetables, whole grains and legumes — that evidence shows to be associated with good health and risk reduction."