Off the mat: Offbeat ways to perform yoga has become a huge trend
By Deborah Jeanne Sergeant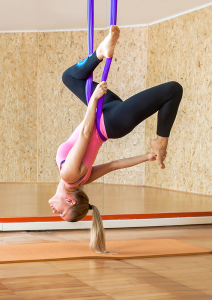 Yoga: would you do it on a boat? Would you do it with a goat?
Today's yoga scene sounds like it took a page from Dr. Seuss' "Green Eggs and Ham." But yogis are practicing on boats, with goats — and in hammocks, on horseback and with a lap full of puppies or kittens.
Offbeat ways to perform yoga has become a huge trend, thanks, in part, to a new generation of yogis looking for a fun, quirky way to enjoy an ancient practice.
"Some are fusing other forms of exercise, like hooping or Pilates to the yoga program," said Joanne Wu, an integrative and holistic medicine and rehabilitation physician who practices in Buffalo and also teaches yoga. "Others are a brand new form of movement. It makes it more fun and keeps people challenged. For yoga practitioners, it helps remain mindful of their exercise program while trying something new."
Wu teaches aerial yoga, which uses silk fabric and hammocks as props to help students perform circus-like movements; pi-yo, which merges Pilates and yoga; barre yoga, a mix of ballet and yoga; acrobatic yoga, where a partner aids in achieving poses; and SUP yoga, which uses a stand-up paddleboard on the water.
Though some purists may balk, "There are definitely ways to make yoga fun and lighthearted, but maintain the mind/body connection that makes yoga what it is," Wu said. "I've worked on blending different exercises with a yoga core. People want to stay active and still learn new things while keeping old traditions. They want something a little different incorporated into their program.
"Alternative yoga is helpful for a yogi who wants to stay grounded with mat practice, but expand their horizons and meet more people in the community."
For example, SUP yoga may draw paddleboard enthusiasts who have never tried yoga.
Deanna DeSimone, certified precision nutrition coach with UBMD Orthopaedics & Sports Medicine, part of the yoUBwell nutrition program, has experienced aerial yoga and found it quite different in some aspects from mat-based yoga.
"You can get into different positions you couldn't on a mat," DeSimone said. "It works on different muscles, as you're climbing up and down the rope."
She likes the novel aspects of "alternative" forms of yoga, such as practicing outdoors or trying different poses. That's what typically draws many experienced yogis as well as newbies to unusual forms of yoga.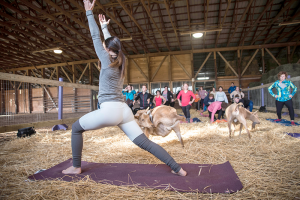 Erica Cope, owner and certified yoga teacher at Buffalo Aerial Dance, teaches aerial yoga and many participants say they enjoy doing poses in the hammock for its novelty. But for those with certain kinds of back issues, the device can take the weight off their spines to make inverted poses more accessible to them compared with standard mat-based yoga.
DeSimone said that participants can join an aerial yoga class as a beginner or advanced student, as she offers options to keep the class more or less challenging for each person.
Of course, participants should ask their doctors before engaging in any type of exercise, including yoga of any sort, especially if they have pre-existing conditions.