As long as we have to wear a mask, let's wear it well. Local vendors have just what you need
By Catherine Miller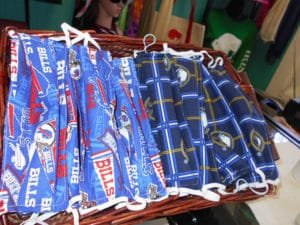 Whether you are shopping at the grocery store, walking a busy street or waiting in line at your favorite restaurant, you will be wearing a mask for the foreseeable future.
Once worn only by the medical community, a face mask is now required or suggested any time there is a gathering of people. When it comes to staying healthy in today's environment, covering our nose and mouth in public is just as important as hand washing and keeping your immune system strong.
As long as we have to wear a mask — let's wear it well.
When masks were first mandated in March 2020 the best I could find were a box of disposable beige ones from a local hardware shop.
That changed rather quickly.
It seemed as if overnight during the spring of quarantine local mask-making vendors were rising up throughout the land. There is no need to buy masks online and wait for shipping when you can take advantage of the local variety found in Western New York.
Everything from sports related fabrics to specialty prints are available. Plain Jayne's Gift Shop on Potters Road in West Seneca carries several varieties of locally-made face masks.
"Our Buffalo Bills masks are our most popular," says Jayne Cilano, owner of Plain Jaynes, "Aside from the Bills masks we find that women especially like to have options and are buying a few to color-coordinate with outfits."
"Whether you are wearing your mask to be trendy, color-coordinated, or advertising your business, your mask is one of the first things being noticed nowadays."
Plain Jayne's Gift Shop is not the only local mask vendor. Check out Alterations by Candice on Abbott Road in Buffalo, or reach out to the Facebook sites for "Sew New Memories" or "Slink Creations" for local vendors that can deliver or ship the masks to you without much wait. In addition to various colors and fabric patterns, you will find various styles. While many masks are pleated across your face you can find some that will "cone" away from your face for added comfort. You will also find various types of way to attach your mask. Elastic straps that form around the ear are prevalent but there are tie strap styles that alleviate ear discomfort and neck-sleeves that can be pulled up as needed and require no ties or straps. The choice is yours for whatever offers you the most comfortable.
At a local farmer's market Kathleen Cunningham, the owner of KupKate's Bakery, wore a mask patterned in pastel cupcakes. April Spencer, a local florist, donned a mask with — you guessed it — flowers. The owner of What's Popping Gourmet Popcorn had a mask with his favorite logo — "What's Poppin?"
Whether you are wearing your mask to be trendy, color-coordinated, or advertising your business, your mask is one of the first things being noticed nowadays. Why not look good showing off that mask?
Experts believe we will have another wave of the coronavirus effecting people in the fall. We can expect that even if mask regulations are relaxed this summer, they will be back in effect in the fall, and hopefully masks worn at the onset of the germ season will help Western New York to limit the number of those infected with the virus. Utilize your masks whenever needed to control the spread of viruses and keep our region safe and healthy.
Photo: Wearing mask at Charlie's BoatYard Restaurant, 1111 Fuhrmann Blvd, Buffalo.