In the twilight of her life, grandmother enjoying every moment
By Jenna Schifferle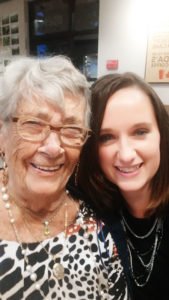 Sitting across from me in a booth, my grandmother sips her coffee and nibbles on a doughnut bite.
Her short white hair shoots out over her glasses, and laugh lines run across her cheeks. She dons a cheetah print blouse, several necklaces, and long, dangling earrings and grips a metallic blue cane that has a pink flamingo hanging on it.
More often than not, she refuses to use the cane, telling her loved ones that she's perfectly capable of walking on her own. In her 90 years of life, her stubbornness and sense of humor have never faltered.
When I ask about her mother, she recites detailed accounts of inside jokes and describes moments of relentless strength. They had been best friends, and my grandmother helped her mother raise her three other daughters: Barbara, Jackie, and Mary.
Grandma goes on to talk about her aunt, the life of the party, and recalls how her aunt used to do the jitter bug like a pro. At this, my grandmother raises her arms and starts bopping along to an imagined song in her mind. She talks about the countless tragedies that marked her childhood — the loss of her stepfather, the passing of her mother, and so it goes. Her eyes get teary.
When I ask my grandmother about more recent memories like my childhood, she closes her eyes and rubs her nose. There's silence for several moments before she starts to speak about my mother and her sisters; the details start to scramble.
So, I share my stories, starting with grandfather, her husband, who had died nearly two decades ago. I remind her about our trips to the thrift shop on Sundays, when we picked out new treasures. I talk about the time my grandpa took us to meet our cousin Vinny for the first time, only to find out it was a hot-dog stand on the river called Cousin Vinny's Doghouse. She smiles, though it's not clear whether she remembers or just enjoys the tale.
I let her know that I get my backbone from her. She has been through struggles and losses and half the time — despite her best efforts — she can't remember things. But she laughs more than anyone I've ever known, and whenever I see her, she finds joy in the world around her.
Each time she talks about her tragedies, she quickly reminds me of her blessings. When she recounts the birth of her first daughter Belinda, she describes the joy that comes with holding a baby in the palm of her hands and the awe of knowing that two people could create such wonder. She pauses. Then, she laughs wholeheartedly, her shoulders flopping wildly.
Founding a Legacy
"If it hadn't been for me, you wouldn't be here. And Belinda's kids wouldn't be here, and their kids wouldn't be here. All these little ones are here because of me!" she says, beaming. I join in her laughter, and soon we're shaking. A minute later, she straightens up and starts again.
"I'm 90; I'm getting older. But I'm going to make it to 100, or at very least, I'm going to try," she says.
I nod and ask her what her secret is.
"I love life — the blue skies, the sounds, the lights, everything. I look up at the clouds and think: I see you today! I make the best of what I've got, day after day," she added.
She nods decisively and fishes around in the doughnut box before pulling out a maple one. As she munches, I ask her if she has any advice for my brother, sister and myself. For a moment, she thinks while licking the sugar off her lips.
"Live the best life you can, every day. Do your best. There's no sense in hating or getting mad or throwing people away, because you only have one life. Enjoy every damn minute," she says.
When she says this, a calm rushes over me. She's right. In the midst of my 9-to-6 job, marathon training, freelance work, and never-ending list of obligations, days feel like fractions of seconds. Often, I hold my head above water while my feet kick furiously beneath me. Perhaps it's a trap of youth, but I let life rush by and often miss the details.
When we leave the coffee shop, I grab my grandmother's hand and trace the wrinkles on her fingers, noting the way they weave up and down like a maze. As we step outside, I stare up at the sky through the darkness of night. When my eyes adjust, I see clouds through the glow of the moonlight and watch them drift, feeling a deep sense of appreciation for the woman beside me. In my heart, I know her words will stay with me long after she's gone.