Getting into shape: 'I needed a real kick in the butt and that's what I received at The Biggest Loser.'
By Michael J. Billoni
Inspired by my wife Debbie's disciplined commitment to train daily and eat healthy to achieve peak physical condition, I finally decided to do something very important for myself.
After years of start and stop exercise and healthy eating programs, I made the personal commitment to enroll at The Biggest Loser Resort Niagara in the Beaver Hollow Conference Center in Wyoming County.
The 5-year-old Biggest Loser Resort Niagara, with Independent Health as its presenting sponsor, is a franchise under the same name as the reality TV show. There is no competition among the participants here but rather, upon arrival on Sunday afternoon for a minimum one-week stay, everyone bonds quickly and encourages each other throughout the training activities during the week.
At the end of each week there is a graduation bonfire where the participants share stories about their experiences and whether they achieved the goal they wrote down on day one.
More than anything, the team of fitness and nutrition experts take a personal interest in each client regardless if there are only 12 participants, like there was when I attended the week before Thanksgiving, or an average of 50 during the summer and early fall months.
Obtaining peak physical condition and eating properly has been a life-long goal of mine.  Self-discipline to take care of myself always seemed to come in second and third to my entrepreneurial career and many charitable activities in which my wife and I participate.
As a former sports writer for the Buffalo Courier-Express, I spent most of my 20's working a job that ended at 1 a.m. in a city that promotes chicken wings, beef on weck, pizza and cold beer at establishments open until 4 a.m. It did not get any better when I joined Bob Rich, Jr. and helped to run the Buffalo Bisons from 1983-96 when we all worked 24-7.
Since then, I have quit drinking and have concentrated on living a healthier lifestyle. However, I needed a real kick in the butt and that's what I received at The Biggest Loser, which is owned by Snyder Corp., owners of the Hyatt Regency Buffalo.
You can stay for as long as you like (or need) and my week's stay began on Sunday with orientation and the first healthy and delicious meal of the week. We eat meals as a group — and the guest rooms are spacious and comfortable.
Monday began an aggressive schedule of cardio, weight training, education classes, meals, snacks, goal setting and journaling before you collapse in bed and wait for the early call to do it all over again the next day.
Each participant receives a three-ring binder filled with information for the perfect road map to follow once you return home. The staff creates a support system that provides a framework for our success, regardless of our physical or mental conditions when we arrive.
Uncomplicated approach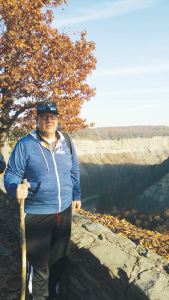 We were taught three major goals with the fitness program, which began with a 45-minute stretch each morning at 6, followed by breakfast before we were back in the gym for a strength training and cardio workout.
The fitness goals are simple — education, motivation and accountability. "Just do it" seems to be the overriding message to eliminate the "I can't do this" mentality that most of us have when it becomes easier to quit than sticking with the program.
The resort is on 350 acres of woods with a huge fish-stocked pond. There are three brisk hikes during the week, including one morning when we traveled to scenic and hilly Letchworth State Park. There are also two outdoor one-hour circuit workouts where you walk around the property at a brisk pace with trainers are at selected points to lead you through strength training exercises. It was grueling.
There is an Olympic-sized pool where we participated in a couple unique and challenging fitness sessions that I have since done at home, along with the daily stretches to begin the day.
Nutrition is key to shedding weight and each day we are provided with three delicious spa-cuisine meals, two healthy snacks, a dessert and all the salad and veggies you can eat at lunch and dinner.
The resort is also drug, alcohol, smoking and caffeine free. You receive a water bottle when you register and there are plenty of flavored water stations around the property along with several flavors of organic teas.
You receive all of the recipes of everything they create and there is a closed Facebook page for alumni to encourage and help others once you leave.
Wellness is a huge part of the educational component and trainers Bill Price, Heather Lester and Theresa Armbrust provide the tools to create a lasting, healthy lifestyle.
The one-hour classes throughout the week focused on balance, portion sizes, label reading and meal planning to allow us to fully integrate our experience there into our lives at home.
For the first time, I finally feel I have a program that I can, and I have, followed upon my return home.
For me, this weeklong boot camp gave me the tools I needed to realize the importance of being in peak physical condition. It is really simple to achieve with self discipline needed for portion control, stop eating two hours before you go to sleep, get a good night's rest and walk or do some aerobic work daily.
It also helps when your wife follows her program that gives you incentive to Just Do It!