Greater Buffalo area promises lots of options this winter season
By Catherine Miller
One of the most popular New Year's resolutions is to get in better shape.
It's also a resolution that quickly falls by the wayside in the aftermath of the holidays. Hence, the crowded January gym that is oh so easy to maneuver in March.
So what can you do to break that vicious cycle of breaking your resolution even before the snow starts to pile up?
Change your routine, suggest many experts. Step off that stepper, move away from that tired machine, and depart from your daily walk to seek out something new and different to add to your weekly workouts.
New workouts can keep you interested and motivated, and that brings better fitness results, the experts say.
Luckily, if you live in Western New York, adding a new exercise regimen can be easier than you think.
The region is equipped with a thriving fitness community that is as varied as the people that live here. You need only visit a non-commercial gym like Impact Fitness in Hamburg to open your eyes to a new workout routine. Impact Fitness uses guided training, nutritional counseling and metabolic conditioning to bring the "wow" to your workout.
Step inside their large warehouse-like facility to check out their battle ropes, Jacob's ladder, and tire-flipping arena, along with a vast array of other full-body strength training equipment.
Their fitness coaches watch over your results daily to keep you on task and most sessions will get you in and out of the facility in under an hour, with high calorie burning results. If you think it sounds like the place that an athlete should work out at, you are right. In their words, everyone is an athlete. Their clients' age range is 12 to 72 and climbing, and the ladies are flipping tires as well as men.
Go cycling
If you are looking for an entirely new spin on your fitness routine, why not try cycling — yes in the winter. While Buffalo has a booming outdoor biking population, indoor cycling is becoming increasingly popular and is known to be one of the quickest ways to shed pounds and develop endurance, all while enjoying some jamming tunes.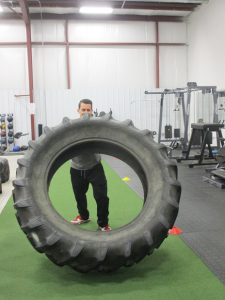 One of the newest indoor cycling centers, Queen City Cycling in Buffalo, offers a variety of cycling sessions, along with yoga, PiYo, TRX training, and POUND.
TRX suspension training uses your body weight with suspension straps to build muscle and maximize conditioning results.
POUND is a fun new rock-out workout trend that uses "rip sticks" that simulate drumming motions to choreographed moves demonstrated by your instructor.
It optimizes strength and cardio, while improving agility and coordination. Queen City Cycling has a variety of hybrid classes that allow you to try out two of their class styles to keep things interesting.
Looking to enjoy the outdoors without going far from home this winter season? Canalside in downtown Buffalo offers a variety of icy options to get you exercising in the fresh air. Try curling as a family friendly competition, rent an ice bike or just join friends for ice skating in Canalside's oversized rink.
The brisk air of Canalside is sure to refresh your mind, body and spirit and remind you why you love winters in Buffalo.  While you are down there, why not take a walk along the canal and enjoy the new pathways and the beautiful winter water view?
For many, a traditional local gym may meet their conditioning criteria. But sometimes, a change of pace can breathe new life and new results into your routine. In our region, the variety of ways to fit in an exercise workout is only limited by your imagination, and maybe the season. Scuba diving, paddle boarding, sledding, skiing and more are available throughout the region.
Plan ahead for your next 5K run — yes, even in this weather. Check out the Penguin Run or Cupid's Undie Run to share in a brisk trek with your neighbors and help out Cradle Beach and The Children's Tumor Foundation while you are at it. Yoga at your local church, Zumba at the community center, and snowshoeing at Tifft Farms are great ways to change up your traditional exercise routine and try something new this year. Your new fitness routine is only an Internet search away.
It's winter in Western New York, and there's much to do and enjoy.