Field for physician assistants growing "much faster than average," according to NYS Dept. of Labor. The mean wage in WNY is $100,510
By Deborah Jeanne Sergeant
The physician assistant (PA) has become one of the most lucrative and employable position is health care.
PAs provide direct care to patients in conjunction with a physician and can focus on a medical specialty. Most schools in New York offer a five-year program that is an accelerated bachelor's and master's degree, which is followed by required certification.
The 2016 Statistical Profile of Certified Physician Assistants, a report by the National Commission on Certification of Physician Assistants, states that more than 115,000 certified PAs work nationwide, an increase of 44 percent in the previous four years.
According to the Department of Labor's most recent statistics (May 2016), the Buffalo/Cheektowaga/Niagara Falls area employs 1.0 PA per 1,000 people. Their mean wage is $100,510. The average mean wage statewide is $107,030.
The Department of Labor predicts 37 percent increase in employment change between 2016 and 2026, cited as "much faster than average" growth.
"There is a great outlook for PAs in all arenas," said Katherine Sumner, physician assistant and adjunct instructor at Bryant & Stratton College and student director-at-large for the Western New York Physician Assistant Association. "Our PA grads are highly employable. There is a huge need as older physician are retiring and cutting back and relying on a mid-level provider. It's a really good field if you're ready to take on the challenge and grow."
It only makes sense that the need for care providers has increased. With the jump in insured patients thanks to the Affordable Care Act and the decrease in providers as baby boomer physicians retire, demand for care providers has steadily risen. Many physicians use "physician extenders"— physician assistants and nurse practitioners — to help meet their patients' needs.
Sumner speaks enthusiastically about her chosen career path at Limestone Primary Care in Williamsville.
"It's very, very rewarding," she said. "I am able to build rapport with patients and learn about their families during their pregnancy and watch the children grow up, knowing the patients and their parents."
The physician assistant also has room for advancement through specializing, thanks to fellowships, residencies and on-the-job training.
With that experience, Sumner said that PAs "definitely have a lot of room for advancement into leadership roles such as in organizations, supervisory or specializing."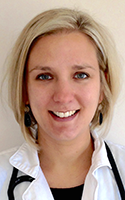 PAs practice in every surgical and medical care setting. A few examples include emergency medicine, cardiac care, general surgery, obstetrics, psychiatry, and neurosurgery.
Beyond the patient care setting, PAs may also find roles in administration of a health care facility or as faculty.
Gregg Shutts serves as chairman and professor of Physician Assistant Studies at Daemen College in Amherst. Daemen maintains 99 percent employment rate for PA graduates within six months of passing their board. Shutts said that in addition to good math and science skills, PA candidates should possess interpersonal communication skills.
"They need to be able to communicate bi-directionally with families and with the supervising physician," Shutts said. "Critical thinking, problem solving, flexible in various situations is important."
Any previous medical experience, such as working as an emergency medical technician or paramedic, may also help the candidate become familiar with medical settings and give a small taste of a few of the tasks PAs do daily.
"It's a really good idea to be in the workforce and recognize the trials of being in healthcare to see what physicians and PAs do," Shutts said. "Do you like interaction with patients and the other members of the team before you embark on this rigorous program?
"Many apply because they like to help people, but we want them to sit back and think how they will help the patient. Getting experience tells them, 'This is what I want to do and I understand what the challenges will be."