Buffalo Curling Club offers unique recreational fun for the whole family
By Daniel Meyer
It happens every four years and board members of the Buffalo Curling Club couldn't be happier.
Whenever the Winter Olympics take center stage, a corresponding increased interest in the sport of curling results. Those curious about playing the game reach out to the folks who oversee four gleaming sheets of meticulously manicured ice inside an industrial park just off the I-190 in South Buffalo.
While the Olympics have concluded, league members and pick-up players continue to enjoy Western New York's only dedicated curling facility.
Offered as an opportunity to help conquer the inevitable seasonal slump most everyone in the region faces as we trudge into spring, indoor curling provides recreational fun for the whole family.
Olympic hopefuls come forward
The typical curling season runs from October through March. Buffalo Curling Club's ability to provide consistent ice surfaces because of its indoor facility allows people to play well into May. With an increased interest in curling because of the Olympics, board members are welcoming people new to the sport with open arms.
"One of the best things about curling is that it really is an activity people of all ages, all skill levels and different athletic abilities can enjoy," said Daniel Buchbinder, the club's membership chairperson and a past president.
"Everyone can fit in and find a role no matter how old they are, if they played before and if they are any type of athlete."
With nearly 300 members who actively play, the club has grown over the years from less than 10 people regularly playing to their current crop of competitors of various skill levels.
"You have some people who come in and think after playing a few times that they can soon represent our country in the Olympics. Then they come to understand all that comes with being highly competitive and consistent," said Tim Lowden, one of the organization's board members. "The good thing is it is a fun sport to play so each time you get out there hopefully you are improving and getting better than from that very first time you threw a stone."
The worldwide audience last month in China helped identify new players in Western New York just as it did in 2018 and in 2014.
"The Olympics is huge for us," said Buchbinder. "Every four years we see just an incredible push from people discovering what a super sport this is and we love that. From people who want to become highly skilled and compete in tournaments to the more casual player, we welcome everyone."
Learn to curl
Curious curlers can learn the sport without fully committing to club membership. There are weekend novice and beginner sessions during which experienced players teach the basics, allowing everyone to attempt to master each lesson and correctly comprehend the scoring system. Ice rentals are offered for pick-up games and various full-fledged leagues provide top-notch competitive action.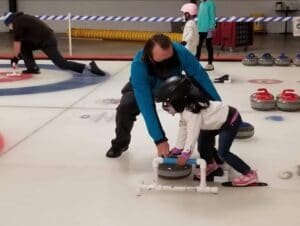 "We want people who are new to the sport to give it a try," said Marie Nowak, club treasurer. "If it turns out you really like curling and want to become a member, we are able to make that happen. We just want to see people get on the ice and enjoy themselves."
"We have children, younger people and middle-aged to older adults coming out to play," said David Stachura, club president. "It's always great to see a few dozen people throwing stones, playing games and having a fun time."
"We have many former ice hockey players who have become members. What we've found is most everyone can learn to curl," said Buchbinder. "It gives people something to look forward to doing, especially during some of the darker and drab days of winter. Not everyone goes downhill skiing or sledding or plays hockey. The people we see come out and try curling tend to like it and really enjoy themselves right away."
Physical and mental health benefits
The misconception that competitive curlers don't have to be in shape couldn't be more wrong. The best players have tremendously well-toned arm and leg muscles and the requirement of balance as a necessary skill leads to increased core strength, flexibility and coordination. The aerobic exercise experience of moving around in colder temperatures allows for more calories to be burned and each player walks approximately two miles up and down the ice during a typical game.
In addition, the sweeping motion involved in directing the 44-pound stone (also known as a rock) increases the heart rate, improves the cardiovascular system and can even reduce blood pressure. The sliding of the rock and vigorous sweeping motions also help strengthen various muscles in the upper body and below the belt.
"Curling is great for your mind because of the strategy involved as you use your mind to try and figure out how to score points and defeat your opponent," said Buchbinder. "I also love that it stimulates your brain and gives you something to look forward to and helps provide social interaction, which is also a mental health benefit. The mental stimulation from a highly strategic sport that requires planning and strategizing and teamwork probably doesn't get as much attention as it should."
The future is bright
The skyrocketing popularity every four years from the Olympic attention helps fuel two other target audiences for the club.
"We have a youth program that is inspiring when you see children embracing the game and really getting excited about curling," said Buchbinder. "The future of curling in this area will be up to these young people so to see more boys and girls out there is just awesome."
A concentrated effort to be more inclusive for people with a disability began last month with the introduction of adaptive equipment.
"We want to allow disabled people to play and that includes people who have suffered some type of permanent paralysis or have muscular dystrophy or some type of coordination issue," said Buchbinder. "What we began in February is only going to improve over time as we understand the needs of specific players."
For more information, visit www.buffalocurlingclub.org or call 716-464-2875.
Curling 101: The Basic Rules
• Two teams of four people each throw a stone down a sheet of ice towards a painted target, a 12-foot circle also known as "the house" painted like a bulls-eye.
• Teams take turns throwing stones, with each team member throwing two in a row.
• The team with the stone closest to the center of the house scores one point.
• Similar to bocce ball, you can keep scoring points if more than one of your stones is closer than any opponent's stones.
• The team with the most points after 10 rounds is declared the winner.