CEO of YMCA Buffalo Niagara discusses the upcoming virtual Turkey Trot, swimming classes and the upcoming summer camp season
By Mike Billoni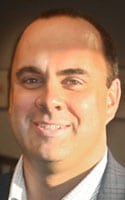 John Ehrbar, president and CEO of YMCA Buffalo Niagara, a native of Cleveland, moved here 18 months ago after serving as the chief operating officer at the YMCA in Spokane, Washington, for six years.
The YMCA Buffalo Niagara has six membership branch locations and two summer camps. Its membership pre-COVID 19 pandemic was 60,000 and since the branches reopened 164 days after a mid-March closing, it is now at 40,000 and growing. Its budget for 2020 was $27 million and Ehrbar expects to finish the year with $18-$20 million in the bank. It had a pre-COVID-19 staff of 1,000 and since returning, it is now at 450.
Q: Because of COVID-19, what went into the decision-making process for this year's 125th annual Turkey Trot?
A: "We had a lot of exciting ideas for this year's 125th annual Turkey Trot but all of that changed in light of the COVID-19 pandemic. Once everything began to shut down back in March, we held many meetings to determine our best route for this year's 8K event. As I was told by so many people and then saw first-hand, this truly is an amazing community, and the Turkey Trot has become a very big event for so many on Thanksgiving morning. We came up with an exciting virtual event and after many conversations with the city, we received permission to have 125 runners that morning so we could keep the tradition of the oldest consecutively run footrace in the world alive while doing the race in a safe way. We normally have 12,000-14,000 serious runners, amateurs and team competitors and, quite honestly, we could register many more but that is the limit for the post-event party in the Buffalo Nagara Convention Center. We made sure our 125 runners were socially distant when they took off in smaller groups and throughout the process, we were in constant communication with the Erie County Department of Health to make sure we were safe."
Q: Did the re-imagined Turkey Trot adversely affect the YMCA finances and how have they been hurt in other ways because of the pandemic?
A: "We created a three-day virtual race with online registration for $35 for anyone to participate from around the world, complete with information on tracking their times and for those here, packet pick up information. We still sold sponsorships and the 125 runners who raised at least $1,000 were our actual runners. We are so thankful for the additional sponsors who came forth to support the YMCA and with our decreased expenses due to not having to shutdown that portion of the city along with so many other expenses, we surpassed our goal of $300,000. We had to close on March 16 to members for a couple of months, but our child-care service remained opened."
Q: How is the registering for lap swimming going in your clubs?
A: "Swimming has always been our most popular service and now that we are offering registration for lap swimming, all of our lap times are filling up quickly. We offer 45-minute time blocks, and they can be reserved a week in advance. That gives us plenty of time to clean and sanitize that area after each swimmer."
Q: How big is childcare in your business model and what is involved?
A: "Typically, our childcare is school-aged children and in a typical year we would have upwards to 50 sites. Right now, we have 40 sites and partnerships with 46 schools to provide childcare. We have a mix of schools offering hybrid or distance learning. Either way, it is affecting the number of children we are serving, and those numbers are down."
Q: What is the history of YMCA summer camps and what are the future plans as a result of COVID-19?
A: "We run 22 day camp locations and we own two resident camps. Last summer, the state required that number be cut in half and we are hopeful we can get back to our normal procedures next summer."
Q: The YMCA has been considered a leading voice in WNY on health and well-being. What went into that initiative and what does it entail this year?
A: "Health and well-being is one of the YMCA's three impact areas in the United States and for us, under healthy living, we look at chronic disease and workplace wellness options where we can offer their employees options on wellness programs. We are also working on these areas: water prevention where we work to make sure kids in all areas are safe around water, whether we teach them at our Y pools or they learn at community pools and Combatting hunger and food insecurity in our community. We are always looking for opportunities to bring the YMCA outside of our walls."
For additional information, visit YMCABN.org.