Caregivers urged to get frequent breaks to avoid burnout
By Deborah Jeanne Sergeant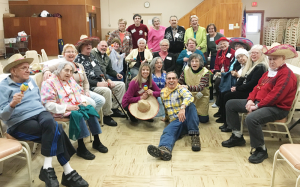 If you care for an elderly loved one at home, particularly one with memory issues, you should consider respite care.
"For a caregiver, it's something that's very critical," said Robert S. Stall, geriatrician and owner of Stall Senior Medical in Amherst. "Caregivers often wait too long to take advantage of it."
He said that many times, caregivers lack the perspective to realize their own stress level.
"Respite care is something that is very beneficial to many family members I've had throughout my career," Stall said. "It doesn't have to be full-time nursing care, but just an in-home caregiver to let you go watch a movie or get a massage."
Many caregivers feel guilty about leaving their loved one in someone else's care; however, Stall said that respite care often gives them the ability to provide better care, since people who feel burned out end up giving less-than-optimal care.
Respite services may be offered at a day program, at home for short-term or long-term periods, or at nursing homes for long-term, such as for a vacation.
The types of care for the elderly can include companion care, where meal preparation may be provided, but no personal care. The next level is a personal aide who might help with chores like bathing or toileting and reminders to take medication. The highest level of care is medical care, which includes assistance with taking medication.
Changing the mindset about respite involves helping caregivers realize that respite is both good for them and their loved one. Many frail, elderly adults can't get out much. Seeing a fresh face or visiting a senior center with activities can provide a pleasant diversion from chronic pain and boredom.
"One woman comes in and just loves to dance," said Kevin Kartstedt, who organizes a monthly respite program at Eden United Methodist Church in Eden. "We do the jitterbug and polka. We do what we can with what they've got."
Care doesn't have to be expensive. When trusted neighbors, friends or family members ask what they can do to help, see if they can sit with your loved one for a few hours once or twice a month. Enlisting several helpers can offer you regular time away.
Groups like Kartstedt's provide a day program that receives some grant funding from Erie County Senior Services but is all volunteer staffed. They receive training from the Alzheimer's Association.
Each of the program's "guests" — the elderly persons spending the day — has an assigned volunteer. Some guests want to read, play games, play piano, clip coupons, or complete puzzles. Others want to chat. Helping with chores like sorting crayons by color for the Sunday school children help some guests feel useful. Crafts are usually a big hit.
"One guest paints something with his dog, like with a shamrock or with a Santa outfit, depending upon the season," Kartstedt said. "They enjoy it."
The volunteers serve a lunch for up to about 40, half of whom are volunteers. A variety of visitors bring entertainment, such as a dog to perform tricks, musical performances, a group of ducklings or a 1930s classic car.
"We brought chairs out and they spent about 45 minutes talking about events during the War, rationing, and going on dates with a car like this," Kartstedt said. "It was so neat."
Paid services can also help provide respite. Professional care giving facilities can include senior centers, which typically don't provide personal care, senior daycare, which may provide personal care, and medical day care.
Respite workers can also come overnight so caregivers can sleep better.
Veterans enrolled for benefits can receive in-home care or up to 30 days per year outside their home.
The VA provides a caregiver support line and hosts special events in the community to help caregivers. The organization also counsels caregivers about the help available in the community.
---
Finding Respite
To locate respite services near you, contact New York Connects and at 800-342-9871 or www.nyconnects.ny.gov.