Organization seeks to stifle stigma associated with mental illness
By Michael J. Billoni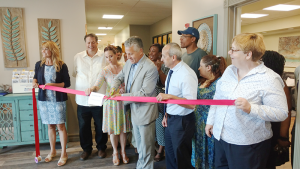 As chief executive officer of Restoration Society, Inc. (RSI), a peer-operated agency that offers recovery-based, person-centered services to those suffering from a mental illness or addiction, Nancy Singh has set a challenging goal for the organization — to end the stigma associated with mental illness.
"Eradicating the stigma of mental illness is a difficult challenge," Singh said. "Stigma and discrimination against those suffering from a mental illness continues to have crippling effects on those with mental health conditions. Suicide is the 10th leading cause of death in the United States and 90 percent of those who die by suicide have an underlying mental health condition."
RSI, founded 45 years ago in Buffalo, follows its mission of illuminating pathways toward opportunities, possibilities, wellness and independence for its customers.
It achieves its goals through programs that embrace life-coaching strategies that facilitate the customer's personal life direction, development and fulfillment. RSI, through its peer specialists, assists individuals to achieve and maintain personal satisfaction in their overall quality of life.
It helps customers integrate into self-selected communities and attain basic life needs, while reducing reliance on professional support. RSI values an individual's natural supports to be present because it is key to gaining and maintaining their recovery, a spokesperson said.
"RSI has built a reputation of achieving great results working with a hard-to-serve population, or those individuals who were unsuccessful in other traditional programs," explains Michelle Scheib, RSI director of peer services.
"Although one in four of our population has a diagnosable mental health condition, most people can fully recover and learn how to manage their symptoms every day, particularly if they receive help early on," Singh added. "Of those with long-term health conditions, individuals with a mental health condition are least likely to find work, live in decent housing, secure steady supportive relationships, and experience social inclusion. Stigma worsens mental health by delaying the time one seeks help and delaying recovery.
Who is in real danger?
"It is so unfortunate that many in society fear those with mental health conditions, feeling they are dangerous or violent and that is often exacerbated by the media," he said. "However, a person with a mental health condition is at greater risk of being victimized or harmed rather than harming others."
RSI, which has its administrative offices, Housing Solutions office and The Clubhouse at 66 Englewood Ave., Buffalo, operates Empowerment Academy and ACE Employment Services at 327 Elm St. and Harbor House Resource Center, 241 Genesee St.
They have many success stories among customers.
Gerry, a long-standing RSI member, explains, "The Empowerment Academy is a great place to recover your life and work on personal goals. The staff assists with your rehab and helps with personal issues in your life. There are always daily activities, workshops and trips to different places with historic value. What I like most is the staff is always there for you."
Katherine, another customer, spoke about RSI's ACE Employment service: "When I had no confidence in myself, I found them to be there for me. I had several good jobs, but it seemed like my anxiety was making it impossible for me to keep a job. I was starting to think that someone with my condition could never work again fulltime. But the job coaches at ACE believed in me and helped me focus on my strengths. Once I gained confidence and coping skills, ACE helped me land a great full-time job that I now love."
RSI and other mental health organizations recently hosted the sixth annual Flash Mob and a Mental Health Awareness Information Fair at the Downtown Buffalo & Erie County Library.
"Our goal was to increase the public's knowledge and understanding of mental health and help to break the stigmas attached to it," said Michelle Scheib, the RSI director of peer services. "We had a great reception from a large audience and it is wonderful to see this event continuing to grow."
The Friendship Foundation is the development board that supports RSI. Brian Rusk is president and Jack Gustafario is chief executive director and former executive director of RSI.
The Friendship Foundation's premier fundraiser is its third annual Courage to Come Back Awards banquet, presented by Russell J. Salvatore and supported by Entercom Radio of Buffalo. It will be held Thursday, October 18 at Samuel's Grande Manor in Clarence. Among the honorees will be National Football League Hall of Famer Thurman Thomas and his family, former Super Bowl champion and Sweet Home High School graduate Keith O'Neil, and Dan and Stacy Gagliardo, owners of D'Avolio Olive Oils, Vinegars and More.
"As more celebrities, business leaders and family members become public about their mental illness, people will begin to feel comfortable seeking treatment and will stop blaming themselves as having a character defect and acknowledging it is merely an illness no different than any other that can be treated," Singh said.
For more information on RSI or the event, visit www.rsiwny.org or www.friendshipfoundationbflo.org.