Here are some gift ideas for elderly, handicapped
By Catherine Miller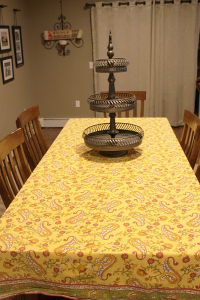 The holiday gift-giving season is upon us.
If your gift list includes people with special needs, it's unlikely that you'll find the perfect present in the Sunday ads of big box retailers.
But rest assured there are plenty of options in the Western New York area and through online shopping to find the perfect gift for that special loved one.
Gifts of memories
People with memory impairment issues are challenged every day with trying to function in a world that is growing increasingly unfamiliar.
Gifts that trigger sights, sounds and scents of years past allow aging people to relive those happy times.
Consider taking Mom's old tablecloth and converting it to an apron or smock, complete with large pockets for the items she keeps close at hand. It may sound like a simple gift, but for an aging person with beginning dementia, wearing such clothing can bring back flocks of memories of sitting around the dinner table with family, having tea with friends, and sharing stories.
Sew New Memories in Angola is an adaptive clothing company that specializes in converting familiar home fabrics into something new for loved ones with special needs. Owner Kim Sexton has converted tablecloths to aprons, favorite shirts and jackets to pillows, and treasured dresses to shawls.
"People love items that are made from items they remember," stated Sexton, "It's a way to keep hold of the happy times, and remember the people that were around when the items were used."
Lap blankets, totes, shawls, and pillows make wonderful gifts and can be made from your loved ones cherished dresses, curtains or even a holiday table runner. Consider adding essential oils to a scarf or shawl to bring back memories of roses, lavender or other favorite scents.
Do you have a music lover on your gift list? Use a voice recording device, available online or at your craft store, to record a clip from their favorite song and have it inserted into the corner of a pillow. If photographs bring comfort to your loved one, pictures of family members can be uploaded and put onto a blanket or coffee mug using many online sites including Shutterfly and Snapfish. Just be sure to order early enough for the holidays.
Gifts of comfort, ease
Physically handicapped people deal with daily challenges in a world made for mobility. Often times, able-bodied people don't consider the issues a physically handicapped person faces just getting dressed. Gift-giving time can be the perfect time to think about what they may need.
Sew New Memories is just the ticket to creating specialized items for those with physical limitations. Sexton said that her niece, Alicia, who is wheelchair bound, was the inspiration behind many of her creations. Sexton began making items that would increase Alicia's comfort and assist her aides in getting her ready for the day.
Thus were created coats that could be placed directly over a wheelchair, shirts that were altered with Velcro fasteners in the back and dozens of other items. If you have a person with mobility issues, Sew New Memories can alter clothing items to make getting dressed much easier.
"Whatever people need to make their loved one more comfortable and easier to care for, I can create," Sexton said. This is true for people with diseases and chronic illnesses that make lifting extremities difficult and even those with arthritis that find buttoning buttons increasingly challenging.
Adult bibs can be made for people with movement and feeding issues to keep outfits clean. Including embroidered names on bibs and shirts for non-verbal people adds a reminder for caretakers to address them by name.
Shoes adapted with Velcro closures ease the efforts of people with finger dexterity issues. Any favorite clothing item can be altered to a person's specific need. It may sound simple, but if you've ever had to dress a person with limited mobility, then you know the struggle is real for both the person with the disability and caretaker.
When choosing the perfect gift, think of the gift from the recipient's point of view. What would make their life easier or more comfortable? Warming mittens? A lap blanket? Maybe a wheelchair pillow? Gifts of comfort can be a godsend and the perfect present this holiday season.