Part of the reason may be because women have smaller and weaker neck muscles than males and they tend to report injuries more often, say experts
By Deborah Jeanne Sergeant
The injury caused by concussion appears to be worse for women than for men, according to research presented in the July edition of the journal Radiology.
Several factors may influence this finding.
Physician John Leddy, director of UB's Concussion Management Clinic in the Jacobs School of Medicine and Biomedical Sciences and an international expert on concussion, said that females tend to report more symptoms, perhaps in part due to their general willingness to discuss medical issues and a better ability to accurately describe physical condition.
"What is pretty commonly reported in the literature, but not every study, is females report more symptoms than males do," Leddy said. "It's not known entirely why that is."
The school has presented research that indicates what physicians tell female athletes to do after a concussion appears to affect their perception of symptoms.
"If you advise them to go home and rest, they report more symptoms than boys," Leddy said. "If you advise light aerobic activity, then their symptoms go down to the level that boys report. We think that girls may ruminate on their symptoms more than boys."
Assigning an activity lends a measure of control that may lead to less worry about the injury.
While part of the phenomenon may include women's perception of and response to the incident, non-subjective measures also correlate. MRI scans used in the study show greater damage among female soccer players who "head" the ball than males. Heading the ball accounts to 25 to 30 percent of concussions among female and male soccer players, respectively.
"It may be because the biomechanics of the injury," Leddy said. "Females have smaller and weaker neck muscles than males and smaller bodies. They have more force transmitted to their brain given the same amount of force during a head impact. Some females may get more of a whiplash effect on the brain during an injury."
Leddy said that a small amount of research points to a hormonal effect, as women who are menstruating may experience concussion differently than women who aren't.
Physician Elad Levy, professor of neurosurgery and radiology, and chairman of the department of neurological surgery at University at Buffalo, said that some youth soccer leagues have eliminated heading for younger players because of the lack of musculature and coordination.
"We understand it's part of a game, but trying to limit the amount of heads could be a tool," Levy said. "Just like with football, they've taken out a lot of contact in practice. Potentially limiting it may help reduce the number of head injuries."
He said that's also important to learn proper technique, play by the rules and regulations of the particular sport and to use the safety equipment properly. Contact with the ball isn't that dangerous, he said.
"The riskiest part is contact with another player, like catching an elbow or head to head with other players while heading," Levy said.
Michael Freitas, primary care sports medicine and concussion management physician with UBMD Orthopaedics & Sports Medicine in Cheektowaga, advises athletes to play heads-up and smart. "Play with a good skill set and how to head the ball correctly. Have good situational awareness. Good form and technique is important."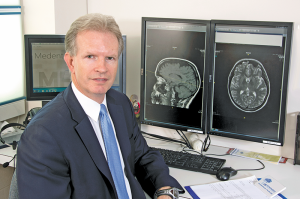 While some people have suggested that additional gear could help prevent concussions in soccer — like the use of helmets worn in football — Freitas said that they're meant to prevent skull fractures and would do little to prevent concussions. Instead, players should avoid leading with their heads.
If there's a hard hit, the officiate should stop play and remove the injured player. Athletes, coaches and officiates should understand the signs and symptoms of concussion — and what happens when they don't report concussions and try to keep playing while injured.
Symptoms may include headache, dizzy, disorientation, confusion, nausea, blurred vision and stumbling.
Following a strict return-to-play policy after a concussion is vital to minimize the risk of lasting damage caused by second impact syndrome.
Levy recommends the resources offered by the Centers for Disease Control and Prevention (www.cdc.gov/headsup/highschoolsports/index.html). Players identified as experiencing a concussion must have sufficient rest and see a health care provider or certified athletic trainer before returning to practice and play.
Some schools offer a baseline test before playing so that if athletes suffer a concussion, they can compare their steps of recovery to their baseline reading. The testing may include balance, visual and verbal memory and reaction time. Trainers can also test athletes on the sideline right after a hard hit.
In addition, knowing the students well can help coaches and trainers recognize when players are hurt and when they're not.
Most back-to-play plans gradually return players with sufficient rest followed by incrementally increasing activity levels. If players regress and exhibit symptoms, they may have to repeat a step.
Most players injured by concussion recover within that timeframe.
Todd Nelson, assistant director of the New York State High School Athletic Association in Latham, encourages parents to help their young athletes to reduce their risk.
"If they can get with a strength conditioner, they may be able to strengthen their neck muscles," Nelson said. "That may help reduce  risk of a potential head injury."
The National Federation of High Schools offers a free concussion management course to students at www.NFHSlearn.com.