By Julie Halm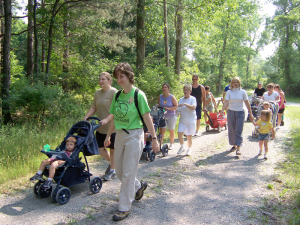 The summer months are fleeting in the Buffalo region, but they provide residents the opportunity to get out and be active in a variety of locations and in a plethora of ways. From hiking to kayaking to simply watching a sunset in a scenic spot, Western New York has a great deal to offer.
Reinstein Woods
At Reinstein Woods Nature Preserve, located at 93 Honorine Drive, Depew, visitors can exercise their bodies while also exercising their minds.
According to Meaghan Boice-Green, director of the Reinstein Woods Environmental Education Center, the nature preserve offers something different than most typical parks.
"A lot of it comes down to management," she said. "We manage this property to maximize the number of types of plants and animals that live here so we can utilize them for education and entertainment."
According to Boice-Green, this allows visitors to really appreciate the natural habitat while searching for all kinds of wildlife.
This searching takes place in many ways, from the casual to the organized. Backpacks with curated scavenger hunts and games for young visitors are available for use and soon a massive group effort to log the natural residents of the preserve will be under way.
A 24-hour long event known as the Bio Blitz will take place beginning at 4 p.m. Friday, Aug. 24.
"We try to identify as many types of things that are living here as possible," said Boice-Green. Groups are broken up into specific areas such as birds, bats or even fungi, but those who wish to participate need not be experts nor commit a full 24 hours to the cause.
Boice-Green also noted that the event typically concludes with a summary where all visitors can learn about the range of plants and animals which were identified in the preserve.
Registration will soon be open for those who wish to participate in the Bio Blitz.
Reinstein Woods also features a lily pond, a nearly three-mile long walking loop suitable for people of all physical abilities, summer camp programs and other attractions. The preserve also offers a motorized scooter to those who have limited mobility so that they can also enjoy the outdoors. A scooter can be borrowed free of charge, Monday through Friday during operating hours.
For more information on programs and hours, visit http://reinsteinwoods.org.
Fort Niagara State Park
For those seeking an outdoor experience with a historic twist, Fort Niagara State Park and its neighbor, Old Fort Niagara, can be an enticing offering.
The state park, which is separate from the actual historical building, offers multiple trails for walking and biking. The "Measured Walk" around the park is just shy of 2.3 miles and the "Beach Trail" is a bit less of a commitment at approximately one mile.
According to Angelina Presutti, park aid, the trails are wide, flat and appropriate for everyone from the serious athlete to the casual stroller.
For those looking to get a workout on the water, the park also boasts a boat launch that is popular among kayakers.
Those looking to stay a bit less dry have plentiful options as well.
"One of our main attractions is the pool," said Presutti. "It has two water slides, a kiddie pool, a sprinkler system and then the main pool."
More than 20 soccer fields are also open for public use when organized leagues are not using them.
After a long and active day, visitors can relax with quite the view.
"If you come to the beach area, there's a very good view of Toronto when it's sunny enough, and a lot of people like to come and just watch the sun set," said Presutti.
The fort borders the state park, but requires a separate admission fee.
For more information on the park, visit https://parks.ny.gov/parks/175/details.aspx.
Ellicott Creek Park
The Erie County Parks, Recreation and Forestry Department manages nearly two dozen parks throughout Western New York which feature hiking trails, biking trails, fishing, kite flying, disc golf, playgrounds, kayaking, soccer fields, tennis courts, horseback riding trails and more. The system covers a whopping 11,000 acres of land.
For the nature enthusiast, Ellicott Creek Park, located at 1 Ellicott Creek Drive, Tonawanda, is a great place to visit. According to the Erie County Parks, Recreation and Forestry Department, visitors will find a variety of creatures from water to land to sky. Frogs, turtles and salamanders can be spotted by the water which is home to more than a half a dozen varieties of fish. Hawks, ducks, geese and woodpeckers are frequent flyers in the park and white-tailed deer, rabbits, foxes and several species of squirrel are just some of the mammals that visitors might spot.
According to Daniel Rizzo, commissioner of Parks, Recreation and Forestry for Erie County, a partnership with Buffalo Niagara Waterkeeper has resulted in a 550-foot long living shoreline, which attracts all kinds of wildlife.
These animals, paired with scenic grounds and the creek all make for a wonderful spot for budding photographers to get outdoors and capture some beautiful scenes.
For the athletically-inclined, the park features a soccer field, tennis courts, a disc golf course and even a cricket pitch, which is an uncommon find around the area. Those looking to enjoy the outdoors and spend some healthy, quality time with their four-legged friends can also visit the Ellicott Island Bark Park.
"It's the biggest dog park in the area," said Rizzo. "It's almost like Disney World for dogs."
The Eternal Flame
At Chestnut Ridge Park, the Eternal Flame is a unique local attraction. A roughly 1.25 mile hike will bring visitors to the flame and its accompanying waterfall.
According to Rizzo, the hike is not overly difficult, but requires proper footwear — shoes such as sandals or flip flops should be avoided. He also cautioned that hikers should always remain on the marked trail.
For those looking to explore the parks system, especially with their little ones, the Junior Park Ranger program provides an excellent opportunity.
The self-guided program is open to people of all ages and begins with picking up a Erie County Park System Passport. Participants then visit a total of nine parks as designated by the program and locate codes posted in that park and complete two additional written activities.
"It's a great way to get out and explore our parks and get a little exercise," said Rizzo.
For a full list on parks in Erie County and details about what they each feature, visit www2.erie.gov/parks/index.php?q=parks.