Therapeutic riding promotes growth in persons with many conditions
By Amanda Jowsey
"When you cannot walk, let me help you run. When you are afraid, let me teach you to trust. When you are weak, let me help you build strength. When you can't find your voice, let us speak without words. When you want to give up, let me show you how far you can go."
This is the motto of the therapy horse.
Equestrian therapy assists with cognitive, physical, emotional and social well-being. According to the Anxiety Treatment Center, therapeutic riding promotes growth in persons with ADD, anxiety and depression, PTSD, dementia, autism, cerebral palsy, traumatic brain injuries, developmental delay, behavioral issues and many other conditions.
The Lothlorien Therapeutic Riding Center in East Aurora focuses exclusively on facilitating this unique healing experience for countless individuals. They have been an invaluable community resource for the Buffalo area. They exist to foster the human-horse connection with one mission in mind: to help all people, no matter their situation, live their healthiest and happiest lives.
Founded in 1983, Lothlorien now serves an average of 700 people a year and has more than 200 volunteers. Executive director Maggie Keller explained how the center has transformed over time: "In the beginning, this was for individuals that had a different ability (physical, cognitive, or emotional) and then we started to see the healing power of being with these horses here."
They realized this therapy can help anyone with or without a diagnosis.
"It's for anybody that's looking for some type of healing. This is the place to come," Keller said.
Lothlorien provides an experience like no other. It is an important supplement to traditional therapies.
"We don't say we're therapists, because we're not; but it's all the secondary benefits from the horses that are amazing," Keller said. "We see miracles here every day. And I think it's the healing power of the horse. The connection is amazing. It's beautiful to watch. We're just a facilitator. That's really where the magic happens is between the horses and the individuals that come here."
Katie Macre, program manager at LTRC, added: "Therapeutic riding means much more than sitting on a horse. The goals for each student vary and the benefits are endless."
Fine motor skills increase from adjusting how the reins are held. Gross motor skills advance by mounting and dismounting the horse. Confidence grows through conquering fears. Core strength, balance and coordination all show improvement.
"We have had students speak for the first time on their horse, interact more at home and school after riding, and show progress from riding with complete support to riding independently. We have watched a rider struggle to complete a task, only to succeed with the help of their four-legged friend," Macre said.
Their specially trained therapy horses are thoughtfully selected for individuals.
"Our 'good citizen' horses are selected for soundness, temperament, willingness and a patient attitude… They are trained to accommodate youth and adults of all ability levels to both ride and work with on the ground. They have a personality that is accepting of diverse situations including, but not limited to, a rider that may not be balanced, is very vocal or uses a wheelchair or walker," Macre explasined.
In January of 2020, LTRC became an affiliate of People Inc., expanding their mission to help people reach their highest potential through therapeutically based equine activities. Lothlorien's Way of the Warrior Veterans program collaborates with the Wounded Warrior Project to help veterans heal from their physical, mental or emotional wounds. Lothlorien has also worked with the Amputee Support Group of WNY.
LTRC works with several different school districts throughout the area including the East Aurora BOCES Program. They also have a reading program with the Buffalo Boys and Girls Club called the Lothlorien Kids' Pony Express where children come to practice reading aloud to horses in a judgement-free place.
"[Children] may not want to read in front of their class, but when they read to the horse, there's nobody telling them that they're wrong. The horses will put their head over and put their heads right in the book," Keller said. "It's all a matter of thinking outside the box and trying something different."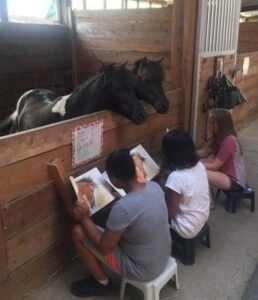 She believes that the horses encourage creativity and freedom that cannot be found in another setting.
Through the generosity of The Children's Guild Foundation, they were able to put in a sensory trail that meanders through the back of their beautiful property. It can be enjoyed on horseback or walking with the horses. Interns studying Occupational, Physical and Speech therapy at D'Youville College helped design the trail.
There are many different tactile or olfactory stations along the way.
"We made a palette of different herbs you can touch and smell. We put musical instruments up in the trees, so if you're on horseback you can reach and hear them," Keller said.
Different footing on the ground also offers different sensations.
Three is the minimum age to participate in a program; there is no maximum age.
Participants must have medical clearance from their physician. All instructors are certified or trained riding instructors and are CPR/AED trained.
The cost of a four-week group lesson (one hour per week with up to four riders per group) is $200. Semi-private (two riders) and private lessons based on need are available.
This equine-assisted therapy isn't covered by insurance, but some insurance companies accept the program as a reimbursable expense. LTRC also offers a tuition assistance program for those with financial need.
"We've never turned anyone away that could not self-pay," Keller said.
Lothlorien relies on grants and donations. "We're always looking to add to the list of people that can help us," Keller said.
A wish list can be found on their website. LTRC is proud to offer this experience to the Buffalo area. They are always open to scheduling visits and love giving tours of their land.
Featured Image: Maggie Keller is the executive director of The Lothlorien Therapeutic Riding Center in East Aurora. "In the beginning, this was for individuals that had a different ability (physical, cognitive, or emotional) and then we started to see the healing power of being with these horses here."