Deaths by overdose still going up year after year
By Deborah Jeanne Sergeant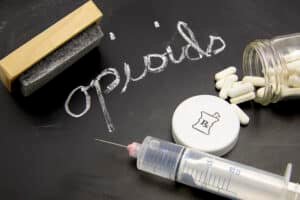 Three years ago, area experts could only guess the effects of the pandemic on area's opioid abuse problem — including how long its effects would linger.
"We've seen a sharp increase in overdose death or complications during the pandemic. The numbers remain high. It doesn't seem like we've recovered," said Tony Lin, addictions medicine specialist with UBMD Family Medicine.
Strategies centering on abstaining from drug use have not helped. Lin said that focusing on reducing harm, such as needle exchange programs and administering Narcan to counteract opioids have help prevent more patient losses.
He said that his organization plans to expand medical treatment for opioid use disorder, as it blocks the opioid receptors in the brain.
Expanding referrals should also help.
"We're called 'detox' but that's a glorification of what we do. We don't cure a patient of substance use but stabilize them in the withdrawal period. We're looking to strengthen our referrals to other organizations," he said.
A five-day "detox" only begins the recovery. Connecting patients with further resources, like meetings, stabile work and counseling, can offer the best chances for recovery.
"Addiction is a disease of isolation," Lin said. "But, it also affects those around the patient like their family, friends and workplaces. Many patients burn their bridges. That's a barrier to recovery."
The illicit drug supply throughout Western New York contains fentanyl. Its extreme potency contributes to accidental overdoses. Brandy Vandermark-Murray, senior vice president of operations at Horizon Health Services, said that fentanyl is making the opioid epidemic worse.
"We are continuing to experience the opioid epidemic," she said. "We unfortunately still have overdoses happening and people unintentionally overdosing. Fentanyl is extremely popular and is in almost all of our supply. This is still happening along with significant alcohol abuse."
Horizon operates in locations throughout Western New York.
Vandermark-Murray views the revival of social connections as a positive factor in the past year, as isolation "is a very dangerous place for people to be," she said.
Telehealth has made a difference, as it has helped more patients access care, if transportation, stigma or scheduling makes it difficult to see a therapist.
Meshing in-person and telehealth treatments can offer patients and providers more options.
Horizon offers harm reduction measures, including distributing test strips to see if a patient's supply contains fentanyl. Horizon also trains people to use Narcan to counteract opioid overdoses and has restarted its out-patient services in lieu of its in-patient program. These include individual and group therapy.
"We continue to experience the worst overdose crisis in the history of the nation, which is devastating individuals, families and communities," said Evan Frost, assistant director of Communications & Public Information for the New York State Office of Addiction Services and Supports in Albany. "Fentanyl continues to be a major factor in overdoses and deaths in New York state. In 2021, the vast majority of overdoses involved synthetic opioids like fentanyl. The main danger from fentanyl is that it is often added to a substance without the user's knowledge, which can substantially raise the risk of an overdose since the person using the substance has not built up a tolerance."
Statewide, the introduction of telehealth and mobile treatment in recent years has helped reach people who may otherwise not have accessed services.
"These initiatives have allowed us to meet people where they are and deliver individualized, person-centered services to meet their needs," Frost said. "We are also collaborating with the office of mental health on efforts to treat co-occurring substance use and mental health disorders, including through certified community behavioral health clinics, which provide an array of coordinated services to address substance use and/or mental health, and crisis stabilization centers, which provide support, assistance and urgent access to care for individuals experiencing a crisis situation related to substance use and/or a mental health condition. We plan to build on these efforts in the coming year."
Frost said that OASAS will continue with street level outreach teams, outreach and engagement services, shelter in-reach programs and ensuring providers have access to naloxone and fentanyl test strips. The strips can help a person using opioids know if fentanyl is present.
"Other harm reduction programming is included in these efforts," he added.
OASAS also plans to "improve treatment equity. Historically, addiction treatment has not been as available to minority communities," Frost said.
On Feb. 8 this year, New York state announced it will make available to 18 providers statewide $8.6 million to develop integrated outpatient treatment initiatives targeting opioid use. The money comes from a more than $2 billion fund received from settlements with opioid manufacturers. Some of the fund will be distributed to municipalities and the rest to support opioid programs.
The New York State Department of Health recently reported that in 2021 statewide:
4,766 overdose deaths involving opioids, a 14% increase over 2020.
10,430 outpatient emergency department visits due to opioid overdoses, a 12.6% increase over 2020.
19,139 instances of naloxone being administered by emergency medical services, an 11.8% increase over 2020.
Anyone struggling with addiction can call the HOPEline 24/7 at 1-877-8-HOPENY (1-877-846-7369) or text HOPENY (Short Code 467369). A family member may also call.
NYS OASAS Treatment Availability Dashboard at FindAddictionTreatment.ny.gov or through the NYS OASAS website, www.oasasd.ny.gov, lists treatment options.
Anyone struggling to file a claim or who has been denied a claim can contact the CHAMP helpline at 888-614-5400 or ombuds@oasas.ny.gov.
Number of Opioid-Related Deaths in Erie County
Year – Number of Deaths
2015 – 118
2016 – 274
2017 – 194
2018  – 168
2019 – 142
2020 – 227
2021 – 272
Number of Opioid-Related Deaths in Niagara County
Year – Number of Deaths
2015
2016 – 46
2017 – 34
2018 – 41
2019 – 37
2020 – 186
2021 – 70
Through June 2022 30 https://health.ny.gov/statistics/opioid/data/pdf/nys_jan23.pdf
In 2021, there were 6,037 overdose deaths in New York State. This is an increase of approximately 101% since 2015.