Former CEO Jim Millard: COVID-19 Incident Command Center leader battling in middle of pandemic storm
By Michael J. Billoni
During his nearly 35 years in the Catholic Health system in Buffalo, Jim Millard has always had a deep appreciation for the hospital's frontline workers — doctors, nurses, operating room technicians and many others entrusted with patient care.
That appreciation has been taken to a higher level in his new role as executive leader and incident commander of staffing for the system's COVID-19 Incident Command Center at St. Joseph's Hospital in Cheektowaga.
He is responsible for round-the-clock staffing needs, including upwards of 100 nurses per day to care for nearly 100 patients with the novel coronavirus (as of mid May), half of which are in the intensive care unit.
"It has been extremely rewarding and reassuring to see the professionalism, dedication and willingness of the staff to help in this situation. Our nurses are not only doing their medical duties but they have now become family members for these patients because their families cannot enter the building," said Millard, who came out of retirement to accept the position when Catholic Health President and CEO Mark Sullivan called in March.
"It is so heartwarming to see these nurses taking the time to set up face-time and video chat for these patients and their families. Their dedication has shown in the many letters we have received from family members thanking our nurses and staff," he added.
Millard, who began as a pharmacy intern in 1981 at St. Joseph's Hospital, retired in 2018 as president and CEO at Kenmore Mercy Hospital after serving in that same capacity at St. Joseph's.
While he and his associates have never experienced anything like the COVID-19 pandemic, he said the hospital system has been through other similar challenges and there are frameworks in place to handle such emergencies.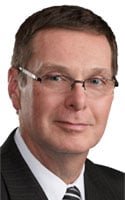 "By creating this command center, we have been able to work through these issues quickly but there certainly was no handbook on how to deal with this when we began," he says. "We hold phone meetings twice daily with all of our responsible leaders to cover questions and concerns while creating policies and procedures.
"The basic care that is being provided to our patients is the same we have been providing in our hospital system for a very long time. Now it becomes a matter of doing that while we protect our patients and staff so this virus does not spread any further than it already has. Our team has done a great job with that."
To accomplish those goals inside the incident center, Millard said three zones have been established — green, yellow and blue — and there are restrictions on who passes through each and what protective apparel they must wear. Millard has had to create new positions to staff, such as runners to carry supplies and equipment from one zone to another and someone to verify that those entering the zones are wearing proper apparel.
To fill staffing needs, he reached out to other hospitals in the system since there were no elective surgeries and limited traffic in emergency rooms.  With surgeries resuming, he says Catholic Health may have to hire for some positions in the COVID-19 Incident Command Center to cover future needs.
"There has been no decision on when we will go back to what St. Joseph's used to be, so for now, we follow the procedures we have established," said Millard, adding that any staff member entering any of its hospitals has his or her temperature taken and are screened to ensure they do not have symptoms.
As he reflects on the dedication of doctors, respiratory therapists, environmental team members and others, Millard emphasized his appreciation for the unit's nurses.
"Not only are they doing an exceedingly difficult job, but they are doing it while wearing this protective equipment of gowns and masks for 12-hour shifts.  When they take the masks off, they have sores on their noses, and it is extremely uncomfortable. We just cannot thank them enough," he says. "They truly are heroes."
Photo: Nurses from St. Joseph's Hospital, part of Catholic Health.