By Lynette M. Loomis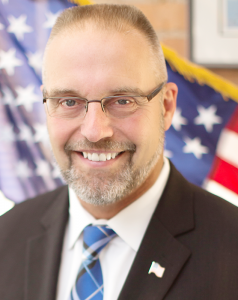 Todd Baxter is a 27-year veteran of local law enforcement and also served three years of active duty with the US Army. He is the executive director of Veterans Outreach Center, a nonprofit organization that provides services to veterans within a 14-county area that includes Erie and Monroe counties in Western New York.
Baxter continued his military service with the US Army Reserves for another 19 years before retiring as a master sergeant, brigade anti-terrorism NCO.
He is a guy's guy so to speak — he also is a prostate cancer survivor.
"Guys talk about sports, business and our kids. But we usually don't talk about personal health issues," he said. "I can't recall a single conversation I ever had with a friend about prostate cancer.
"The only man who spoke to me about it? My doctor during a routine physical. Dr. Charles Courtsal [of Rochester] pointed out that while they were taking blood samples anyway, one more test wasn't a big deal."
The extra test proved to be crucial in Baxter's life — it was in fact a big deal. It turned out that Baxter was diagnosed with prostate cancer last September.
"I was emotionally devastated. I kept the news from my wife and two boys as long as possible as I did not believe it could be true. I work out all the time and am considered pretty fit, so my sons couldn't really process that while I looked fine, I had cancer. It was not an easy conversation but a lot easier than the conversation my wife would have had with them if we hadn't caught this in time. I in no way saw myself as a cancer victim."
The procedure to remove his prostate in November took about four hours. The recovery was difficult, taking about four weeks.
"Once they got in there, they found that the cancer had spread. Our blessing is that the surgeon, Dr. Jean Joseph [of University of Rochester Medical Center], was able to remove all of the cancerous cells."
Baxter was able to return to work part-time and then returned to full time after another two weeks. Two months after surgery he and his son Zac completed a 5K race.
"It was a personal goal, to prove to myself and my sons that obstacles can be overcome," Baxter said.
Now his goal is to have as many men as possible hear about the early warning testing and how it saved his life.
"Guys, go get the test done. It's a lifesaving test and most of us don't realize we need to do it. Like me, most men procrastinate going to the doctor. This is a good opportunity for me to share the burden that got placed on me and make it a positive thing."
Baxter feels grateful. "Faith and family, especially my beautiful wife Mary, have carried me through. Amazing medical professionals have done their job with expertise. Now, continued prayers for clean blood tests are invited as I will be evaluated in in late winter. I will live a healthy positive life and I, now more than ever, will evaluate what is really important.
"I now see myself as a cancer survivor. Guys, I can't say it often enough. Talk to your doctor. Get the PSA test. Live."
---
How Common is Prostate Cancer?
Other than skin cancer, prostate cancer is the most common cancer in American men. The American Cancer Society's estimates for prostate cancer in the United States for 2017 are:
• About 161,360 new cases of prostate cancer
• About 26,730 deaths from prostate cancer
• About one man in seven will be diagnosed with prostate cancer during his lifetime.
• Prostate cancer develops mainly in older men. About six cases in 10 are diagnosed in men aged 65 or older, and it is rare before age 40. The average age at the time of diagnosis is about 66.
• Prostate cancer can be a serious disease, but most men diagnosed with prostate cancer do not die from it. In fact, more than 2.9 million men in the United States who have been diagnosed with prostate cancer at some point are still alive today.
Source: American Cancer Society.