Susan Roeser, RN: 'I love taking care of people. It just gives me joy.'
By Deborah Jeanne Sergeant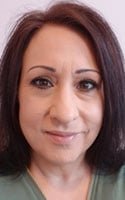 Helping with a volunteer ambulance corps encouraged Lancaster resident Susan Roeser to shift her career from education to nursing.
Now an RN and the nurse care manager at Landmark Health in Buffalo, Roeser had completed a bachelor's degree in education in 1990 at Buffalo State College. While at Buffalo, she volunteered with the ambulance because she had always like watching medically oriented television shows as a kid, such as "M*A*S*H" and "St. Elsewhere. "
"I thought I'd join to see what it was all about," she recalled. "It completely changed my life. I loved it."
The excitement of life-or-death situations seemed more meaningful to her and spoke to her in a way education never had. She enrolled at Erie Community College and earned her associate degree in nursing and earned her RN credential in 1994 while working a paid position with Lasalle Ambulance Corps.
Initially, Roeser worked as a nurse at what is now known as Sisters of Charity St. Joseph's Campus in Cheektowaga. For the past five years, she has worked at Landmark. While she enjoyed the fast pace of the hospital's emergency room, she wanted a personal connection with patients and a long-term relationship, where she could see her influence make a lasting positive change in patients' lives. She found that providing home health nursing through Landmark.
The agency's patients tend to be high risk and elderly, the kind of people Roeser believes fall through the cracks and end up returning to the hospital.
"I enjoy the problem solving of keeping them at home and out of the hospital," she said. "We go into the patients' homes and we get to see how they live. Sometimes, they don't have food and their medications aren't organized. They may be outdated. Sometimes they take the wrong dose. They have throw rugs and they're tripping and falling. They don't have equipment to keep them safe."
She added that aspects of patients' lives such as these remain unseen from clinicians working in the hospital setting.
"A lot of these things can be taken care of to keep them home," Roeser added.
Though unintentional, Roeser's teaching background has proven very helpful in educating patients and family members on what can keep patients safer at home. She finds among her biggest challenges is "getting people to change their habits, like their diets," she said.
Whether it's steering patients with congestive heart failure away from the salt shaker or encouraging and streamlining medication compliance, "nursing is a lot of education," Roeser said. "A lot of people don't think about it that way, but it's a big part of my job.  Sometimes patients are receptive to change and some it takes a while."
She relies on her interdisciplinary team at Landmark, which includes professionals in behavioral health, dietitians and more to address patients' needs.
"I have a lot of resources to use, which really helps with the challenges of taking care of these people," Roeser said.
In light of the COVID-19 crisis, she has noticed an upswing in behavioral health challenges.
"People are more anxious," she said. "There's depression. Being sensitive to those kinds of things right now is important for everyone, myself included. A lot of times, I'm the only one to call them and see them. That's why I want to say 'happy birthday' or something personal to connect with patients that way."
That personal connection is the thing she enjoys most about nursing. Roeser said she treats her patients like family and they often reciprocate.
"I love taking care of people," she said. "It just gives me joy."
She tells others interested in nursing as their career that because it's a tough job and many challenges, "you have to be creative and use your resources and do the best you can to better the health and lives of these patients. They depend upon you. Sometimes, we're all they have."
She believes that the reason behind why someone chooses nursing will determine success.
"You have to have a passion for what you're doing," she said. "Anyone can be book smart, but the people who really have a passion for what they're doing and they care about what they're doing and the patients, those are the ones who make the impact. The bedside manner is so important.
"I hope to continue to do it as long as I can," Roeser said. "You're never not a nurse. I have patients who are retired nurses and they say the same thing."
In her free time, she likes to spend time with her family, listening to music and watching movies.