Simple steps can help seniors build more muscle strength
By Deborah Jeanne Sergeant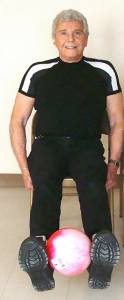 If you don't feel as strong as you used to, it's time to do something about it.
Many people find that as they grow older, they're less able to perform tasks they once did. As the decades pass, muscle mass naturally diminishes as inactivity pairs with dipping hormones. But you don't have to surrender.
"You can build muscle all your life," said Terrence Whiteside, owner of Steel Mill Gym, Inc. in Buffalo. "You'll be stronger in every situation. Core strength can help keep your back from hurting and keep your body functioning properly. There's endless reasons. It helps you sleep better. Strength training is phenomenal."
Meeting with a personal trainer in a gym can make it easier to understand how to move correctly during strength building and what to do. For some people, lack of transportation, bad weather, traveling or a busy schedule may make it difficult to go to the gym regularly.
When it's not possible to get to the gym, following a strength training DVD, using resistance bands and performing weight-bearing exercise can help build muscle.
Jamie Critelli directs group training and teaches yoga at Dr. Derek Health and Wellness in East Amherst and group fitness at Crunch Fitness in Buffalo. She's a big believer in functional strength — doing exercises that relate to everyday activities to keep muscles strong.
"Just moving your body weight is the number one thing," said Critelli. "If you're at home, grab a chair or counter, do some balance postures."
That could include balancing on one leg, squatting over a chair, standing push-ups from a countertop or other stable surface, or planks.
"Use different inclines for push-ups to increase upper body strength," said Critelli. "Depending upon which level you're at, when your toes are on the floor and you have your hands on a couch, that creates less intensity. You're not pushing up as much body weight. Then try a chair that's lower. Then you go to a low stool or the floor. You could put your knees down. Then you can progress from there."
She also encourages older adults to use elastic bands for home workouts.
"Those are an incredible tool to enhance your workout," Critelli said.
She also said that household items can form weights as strength increases, filling a jug with more and more water can mimic the effect of a kettle bell.
Richard Derwald, 81, and a fitness trainer with Erie County Senior Services, in East Amherst, likes to recommend chair-based exercise for people who struggle with balance and standing exercise. He said that physical therapists tell knee surgery rehab patients to use latex resistance exercise bands to help strengthen their legs during recovery.
"They're probably the best investment anyone interested in their health, wellness and fitness could make," Derwald said.
Resistance exercise bands come in several levels of resistance, so anyone just beginning should use a band of light resistance.
Derwald said to place the band between the heel and sole. Bring the leg back toward the body and then extend the leg, all while keeping the arms still. Repeat with the other leg.
Derwald said to strengthen the muscles in the front and back of the upper leg, abdominals and lower back, sit on a chair, grasp the seat with both hands, hold a child's ball firmly between the feet and ankles, inhale while slowly raising the feet. Hold the ball about four inches from the floor, then slowly lower, exhaling through the mouth.
Of course, it's important to receive clearance from a medical doctor before engaging in exercise, especially for anyone with known health issues.