Local experts praise new diet method
By Deborah Jeanne Sergeant
If you've spent any time on social media lately, you've likely heard of Trim Healthy Mama (www.trimhealthymama.com) from the book "Trim Healthy Mama Plan" by Pearl Barrett and Serene Allison. Also known as THM, it's an eating plan that offers both pros and cons, according to area health experts.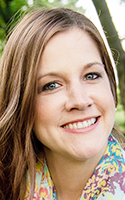 Not just for mamas, the eating plan basically involves nixing white flour, white sugar, unhealthful fats and artificial sweeteners; never eating carbohydrates and fat sources in the same meal; and eating every three hours. Those following the plan also choose as most of their carbohydrate intake fruit, vegetables or, occasionally, low glycemic index bread, such as sourdough bread.
Erin Burch, registered dietitian in practice in Buffalo as Erin Burch Nutrition, PLLC, said that the emphasis on fruits and vegetables makes THM overall pretty healthful.
"The plan is geared directly toward regulating blood sugar, which prevents fat storage and reduces inflammation, and can help with weight loss," she said. "The plan encourages protein at each meal, which is a recommendation I make with almost all of my clients.  Protein helps with blood sugar control, metabolism boosting and satiety."
She also likes its emphasis on moderation and mindful eating; however, labeling food as "good" or "bad" can lead to poor eating habits. Any food eaten in moderation can be part of an overall healthful diet, she said.
Physician Priyanka Patnaik provides outpatient primary care service at Conventus Family Medicine. She's also a clinical assistant professor at UB Family Medicine at Jefferson. She doesn't recommend diets, as short-term and yo-yo dieting can lead to weight gain, as individuals return to the old habits that caused weight gain.
"Some have succeeded with this as it curbs extra calories," Patnaik said. "It is a low-carbohydrate diet and increases vegetables. It cuts down on the number of calories."
But she added that the rigidity of the plan, such as not consuming fats and carbohydrates in the same meal, may be difficult to follow.
"By not eating it together, it's a less balanced diet," Patnaik said. "The only reason it's working for weight loss is you are getting energy through the fat. The protein and fat in the diet give satiety so people feel less hungry."
Patnaik also doesn't think people can continue eating THM for a long time. Instead, she recommends cutting out sweetened beverages and juice, controlling portion sizes and making better food choices.
"Be consistent in lifestyle changes," she said. "Make changes that will work for you. Not everyone likes salad. Some might like soup and cooked vegetables. As long as there's a calorie deficit, they will lose weight. At the end of the day, it's how much you burn."
D.J. Mazzoni, nutritionist at UBMD Orthopaedics & Sports Medicine in Cheektowaga, said he has never heard of avoiding carbs and fat at the same meal as a means of weight loss.
"Eating them together helps slow down the digestion process as you feel full longer," Mazzoni said. "I don't see the science in separating fat and carbs."
Many THM recipes listed online are dessert recipes, or ones geared to replace now-forbidden foods. Since they're trying to improve dishes that include things like white flour, they often call for more obscure and expensive ingredients.
"It can be difficult if people can't find those ingredients," Mazzoni said. "The diet deals with a lot of food preparation. We're used to spending less time on preparing food."
Mazzoni does like the aspect of THM that requires eating every three hours, since that helps keep prevent becoming so hungry that the person makes poor food choices or overeats later.
The healthful aspects of THM sound familiar to Allyson Odachowski, registered dietitian with Custom Dietetics in Buffalo.
"It's a healthy eating message packaged in a different way," she said. "A lot of other diets recommend the same things. Those are the positives. I don't think those points are unique to this plan."
Odachowski doesn't like that THM limits grains, as many of these with high fiber are healthful and contain B vitamins, for example.
"Anytime you limit your foods, you limit your nutrient profile," Odachowski said. "All food has some benefit, but you should only cut something out if you have to, like with allergies.
"Eating should be enjoyable and fun. You should go to the party and have something to eat."
She explained that diet plans tend to provide a template and followers are either good and "on plan" or bad and "off plan" instead of learning and adopting lifestyle habits of eating and exercise that support good health.