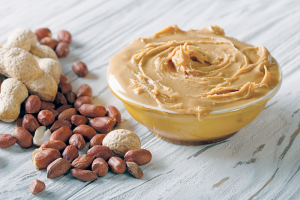 November is National Peanut Butter Lovers' Month! What better time to celebrate all that's wonderful about this healthy plant-based protein?
Some things just go together: Tarzan and Jane, socks and shoes, peanut butter and jelly. Here's one more: nut butters and good nutrition. Surprised? Some people are. But according to dietitians, nutritionists and people in the know, nut butters are a convenient, low-cost, nutritious addition to most diets.
Although "peanut butter" comes to mind first when considering nut butters, there are many alternatives, each with their own unique health benefits. For the most part, however, all nut butters — from peanut to pistachio, almond to walnut — deliver about 200 calories, 7 to 8 grams of protein and 16 grams of fat per 2-tablespoon serving.
The calories and fat are what deter some from consuming this particular food; and, indeed, if you are closely monitoring either, then nut butters might not be right for you. But for many, nut butters, when eaten in moderation — say, a couple of tablespoons a day — are a healthy choice.
Not so surprisingly, high-quality nut butters without added sweeteners, salt or preservatives have nutrient profiles similar to the nuts from which they are made. My go-to nut butter is the one with the most calcium: almond butter. My husband, on the other hand, reaches for walnut butter, a nut butter that's loaded with heart-healthy omega-3 fatty acids. Both my budget-conscious adult kids, however, stock their pantries with peanut butter, a childhood favorite that has a tad more protein, manganese and niacin than most.
Many wonder how nut butters, with their high fat content, can be considered a healthy food. Just like olive oil, nut butters tend to be richer in the types of fat that benefit heart health — monounsaturated and polyunsaturated fat — and not so rich in saturated fat. In fact, a 2-tablespoon serving of peanut butter has the same ratio of unsaturated fat to saturated fat as olive oil.
Another good reason to go crazy for nut butters: According to the Harvard School of Public Health, numerous studies have shown that people who regularly include nuts or nut butters in their diets are less likely to develop heart disease or Type 2 diabetes than those who rarely eat nuts.
Last but not least? November is National Peanut Butter Lovers' Month! What better time to celebrate all that's wonderful about this healthy plant-based protein?
Helpful tips
Unlike some of the other nut butters, there's tremendous variation in the quality of peanut butters sold. Scour the labels carefully (nutrition facts and ingredients list) and opt for peanut butters that are lower in sugar and salt and that do not contain added oils, especially "partially hydrogenated oil," which is a source of trans fat. Steer clear of reduced-fat peanut butters, which replace the "healthy fats" with add-ins and starchy fillers that boost the spread's sugar content. Choose natural and/or organic peanut butters that contain peanuts and salt (if you prefer a little salt) and nothing more.
Peanut Butter Pumpkin Soup
Serves 4 to 6
2 tablespoons olive oil
½ medium onion, chopped
2 garlic cloves, minced
1 (15 oz.) can 100 percent pure pumpkin
1 cooked sweet potato or yam (baked or microwaved)
½ cup smooth peanut butter (or, nut butter of choice)
3 ½ cups sodium-reduced stock of choice (or, water)
½ teaspoon coarse black pepper
1 teaspoon salt (or, less)
1 teaspoon curry powder
½ teaspoon dried coriander
¼ teaspoon cayenne pepper (optional)
snipped fresh chives, for garnish
In medium soup pot, sauté onions over medium heat until soft, about 5 minutes. Add garlic and cook 1 minute more. Stir in the pumpkin, sweet potato and peanut butter.
Add the stock and spices and stir well. Bring to a boil and then reduce the heat to a simmer and cook for 20 minutes, covered. Puree with a handheld blender.
If soup seems too thick, add more water. Garnish with chopped chives.
Anne Palumbo is a lifestyle columnist, food guru, and seasoned cook, who has perfected the art of preparing nutritious, calorie-conscious dishes. She is hungry for your questions and comments about SmartBites, so be in touch with Anne at avpalumbo@aol.com.