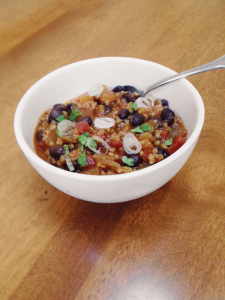 True confession: For much of my life, I never gave a hoot about whole grains. Happily raised on white bread, white rice, white crackers, and white Twinkies, I ambled along this unhealthy path for decades until I had a wake-up call: children.
Yes, it took motherhood to open my eyes to the importance of eating whole versus refined grains.
Why are whole grains important — so important that the USDA recommends that all Americans make half or more of their grains whole grains? In a word, whole grains, which have not been stripped of their nutrient-dense-antioxidant-rich bran and germ, are much more nutritious than their refined cousins.
Multiple studies, in fact, have shown that eating whole grains instead of refined grains lowers the risk of many chronic diseases, such as heart disease, Type 2 diabetes, some cancers and obesity. Some studies have even demonstrated that eating whole grains over refined grains contributes to weight loss.
Bulgur — wheat that's been parboiled, dried and cracked into nibbly bits — is one of my favorite whole grains. I'm fond of this particular grain, a Middle Eastern staple, because it's a knockout source of some vital nutrients and it's super easy to prepare. One cooked cup contains 8 grams of fiber, over half of our daily needs for manganese, about 6 grams of protein and a bounty of other vitamins, minerals, phytonutrients and essential fatty acids.
On the fiber front, bulgur contains mostly insoluble fiber — the rough stuff that keeps us regular and can also improve bowel-related health problems, like constipation and hemorrhoids. Much like soluble fiber, which bulgur also has, insoluble fiber can play a role in controlling weight by staving off hunger pangs.
Bulgur's protein is complete, with all nine essential amino acids, which means you don't need to combine bulgur with another protein source to reap this nutrient's benefits. Protein is a powerhouse building block for muscles, cartilage, skin and blood, and also plays a critical role in immune-system health.
This versatile whole grain is also a super source of manganese, a trace mineral that plays an important role in many body processes, from collagen production to calcium absorption to blood-sugar regulation.
A final reason to make bulgur your body's BFF? It's low in fat, sodium, cholesterol and calories (only 150 per cooked cup).
Helpful tips
Store uncooked bulgur in an airtight container in a cool, dry place. It will keep at room temperature or in the refrigerator for five to six months. Frozen, it keeps indefinitely. Cooked bulgur lasts between three to five days in the refrigerator. If buying bulgur from the bulk section, make sure the bins are covered and there is no evidence of moisture present.
Bulgur Chili with Black Beans
Adapted from Mark Bittman; four to six servings
1 ½ tablespoons olive oil
½ onion, chopped
2 bell peppers, any color, chopped
1 jalapeno pepper, diced (optional)
2 to 3 garlic cloves, minced
2 tablespoons tomato paste
1 (14.5 ounce) can petite diced tomatoes (don't drain)
1 (15 ounce) can black beans, drained and rinsed
3 cups broth or water (more if needed)
1 tablespoon chili powder
½ teaspoon cumin
salt and pepper to taste
3/4 cup bulgur
Optional toppings: sliced scallion, chopped cilantro, grated cheese
Heat oil in large pot over medium-high heat. Add onion, peppers and garlic. Cook, stirring occasionally, until the onion is soft, about five minutes. Stir in the tomato paste until it is evenly distributed and then add the tomatoes, beans, broth, chili powder, cumin, and a good sprinkling of salt and pepper.
Bring to a boil and then turn down the heat so the mixture simmers; cook, stirring occasionally, for about 15 minutes. Stir in the bulgur and cook for 10 minutes more, then turn off the heat and let it sit for about 15 minutes. If mixture seems too thick, add some water and reheat for a few minutes. Garnish with topping of choice.
Anne Palumbo is a lifestyle columnist, food guru, and seasoned cook, who has perfected the art of preparing nutritious, calorie-conscious dishes. She is hungry for your questions and comments about SmartBites, so be in touch with Anne at avpalumbo@aol.com.