Buffalo resident was diagnosed with the condition at age 25. Now 52, she has become an advocate for those who suffer from it.  "We are all in this together," she says
By Jane Schmitt
Vitiligo is easily defined as an autoimmune disorder. But it's not so easily understood.
Lisa Toner knows that all too well.
For many years, the Buffalo woman has lived with the condition, which strips the skin of melanin and results in white spots or blotches. And along the way she has endured the physical and emotional challenges that come with it.
Now she's looking to help others and increase awareness through a local chapter of VITFriends.org, a national support community for people with vitiligo.
Toner launched Blooming Buffalo VITFriends on Facebook in January with a strong message: "We are all in this together."
"Being brought up on Buffalo's west side and spending many years in Texas before returning to New York, I have learned about adapting to change," she said. "[But] the most agonizing change started when I was 25 years young. That's when vitiligo inserted itself into my life."
She was living in San Antonio at the time and working at a restaurant when she noticed tiny white spots around her cuticles. Over time, the spots spread on her hands and then to other parts of her body. Her primary doctor diagnosed it as vitiligo.
What is vitiligo?
The National Institute of Arthritis and Musculoskeletal and Skin Diseases (NIAMS) describes vitiligo as a chronic autoimmune disorder that causes patches of skin to lose pigment or color. This happens when melanocytes — skin cells that make pigment — are attacked and destroyed, causing the skin to turn milky white.
Patches typically appear symmetrically on both sides of the person's body, such as on the hands or knees, but sometimes there can be a rapid loss of pigment over a large area. Vitiligo, which affects an estimated 2% of the population, is seen in people of all ages and races. The condition also may cause abnormalities in the retina.
There is no cure, according to NIAMS, but treatments may hinder the progression and help the skin tone to appear more even. They include medications such as corticosteroids; light therapy or phototherapy; and depigmentation therapy.
But costs may be high and insurance coverage varies.
Emotional stress, sun exposure and trauma to the skin such as a cut or burn can trigger the spread of vitiligo. Over the years, Toner herself has tried creams and gels, but said she isn't satisfied with the results.
"I think one of the biggest misconceptions is that it may be contagious," said Toner, a direct support specialist at Community Services for Every1. "People may be afraid to hug or touch you; they think something bad is going to happen to them. I can see the fear in their eyes, the uncertainty. That has been a struggle for me."
Indeed, the condition can trigger anxiety, depression and isolation as individuals limit social interaction because of their physical appearance. As Toner put it, they sometimes become "prisoners of their own skin."
"I have had to constantly remind myself that even though my skin was changing, my true self, my true identity, was not changing along with it," she said. "It's hard. When I was younger, my mother told me that people are often afraid of what they don't understand. And in the 26 years that I've lived with vitiligo, I have found that, yes, there is ignorance. But people are more accepting of it now, I believe, because there is more about vitiligo in the media. And there is a lot of information online."
World Vitiligo Day – June 25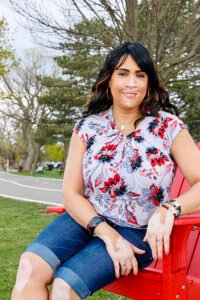 While outreach and education chip away at the stigma, Toner said there still is much to be done. Working to increase awareness are organizations such as the Vitiligo Research Foundation, the Vitiligo Support and Awareness Foundation and the Global Vitiligo Foundation. Another resource: www.myvitiligoteam.com
June 25 will mark the 13th annual World Vitiligo Day, whose mission is to create a safe space for those affected by vitiligo to learn, share and celebrate. (See 2023.wvdusa.org for information about U.S. events.)
"In America there are [millions of] people diagnosed with vitiligo," said Toner. "There are others who have not been diagnosed because they are afraid to go to a doctor and get checked out. They live in secrecy, they live with shame and embarrassment, and they hope it will go away on its own."
She created Blooming Buffalo VITFriends as a way of connecting with others. Now she is busy reaching out to area dermatologists who can encourage patients looking for help and resources.
"My goal, first and foremost, is to be a support for people in this community who are living with vitiligo and to let them know that they are not alone," Toner said. "When they hear a voice inside say, 'You're ugly,' I'll be that encouragement to them and say, 'Hey, we are in this together and I'm not going to let you sink deeper into this hole. I have been where you are and was able to get out.' Everybody has their own journey with vitiligo, but there is help out there."
---
Photos courtesy of Donny Green