Innovative athletic program known as RACIN!' assists Western New York athletes living with disabilities
By Daniel Meyer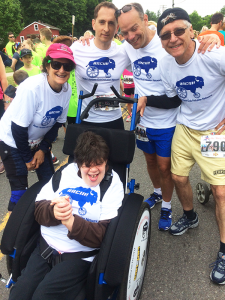 Helping people with developmental disabilities experience the thrill of competing in a foot race was what B.J. Stasio, Frank Cammarata and Eric Frank had in mind when they created an organization comprised of dedicated volunteers who continuously support people who are less fortunate.
The Rollin' Athletic Club Inclusion Network, which is better known in the WNY racing community as RACIN!, is made up of like-minded people who advocate for opportunities that easily allow individuals who are developmentally disabled to participate in area road races.
Formed in 2013, RACIN! recruits people with developmental disabilities who want to engage in regular exercise, which has been proven to improve them physically, emotionally and socially.
"I love volunteering because it allows me to have the ability to give back and help make a difference in someone else's life," said Cammarata, who serves as executive director for the Erie County Office for People with Disabilities. "I really enjoy the friendships I've established and the camaraderie of running in local events with people who in the past may not have been presented the opportunity to participate. It's awesome."
This past year the RACIN! athletes, their "pushers" and other volunteers from the organization were quite active, training for and eventually running in eight different races.
True dedication
"I helped establish RACIN! and I remain involved because I want people with developmental disabilities to be a part of the local racing scene," said Frank, who is employed as the principal psychologist for the Western New York Developmental Disabilities Services Office. "I look forward to each race and celebrating our accomplishments after we cross the finish line together."
The chairs used in each race were purchased from a company called Adaptive Star. They are checked prior to every race to ensure that they are in safe working order. Every participant is required to sign a "safe chair use form" and receive explicit and detailed instructions prior to each race on how to manage the chair safely and successfully from the opening gun to the final step across the finish line.
Providing recreational opportunities for people with disabilities are vital to ensure these individuals have opportunities to socialize by working toward a shared goal.
With the organization continuing to grow in popularity, the need for additional help in 2019 and beyond is increasing.
Interested volunteers willing to serve as runners, monetary donors or helping out in another capacity that does not involve running are asked to visit www.buffaloracin.org and submit their contact information.
"We have an absolute blast," said Stasio, a 48-year-old Buffalo resident who has cerebral palsy and works as a self-advocacy coordinator and master trainer at the Western New York Developmental Disabilities Services Office. "I ask people looking to do something really different to come join us."
"Whether it is a 5K race or a half marathon, it's all about respect and inclusion," said Cammarata.
Participation produces pure joy
Like everyone else in life, the athletes and their dedicated pushers have many duties and responsibilities that must be taken care of both personally and professionally. Scheduling the time to properly train for the races the RACIN! group registers to participate in each year is a challenge, but the determination of those who have competed in the past reflects a united effort to fit regular training sessions into their busy lives.
"It's always important to be completely devoted to this because from an emotional standpoint, it's something that produces tremendous satisfaction for me personally," said Tim Marren, who works fulltime as a copywriter for a local advertising agency and runs in dozens of 5K races each year. "The goal of having others experience the pure joy of crossing the finish line is what drives me. To see the smile on the faces of the participants is extremely satisfying and never gets old."
Stasio agrees, pointing out that inclusion athletes like himself and volunteer pushers like Cammarata, Frank and Marren can achieve a sense of accomplishment that he says really cannot be explained without experiencing it first-hand.
"I got involved because I was sick and tired of being excluded," said Stasio. "It was really eating me up and caused an almost sick feeling inside my gut. To be an active part of something instead of just being on the sideline as a cheerleader is exhilarating. What RACIN! does for people with disabilities is provide them hope and a view that life doesn't have to be experienced within a box. What you do when you enter one of these races or volunteer to help someone like myself is help us become visible and participate as an active member of the community instead of being on the sidelines and feeling invisible. Respect and inclusion are things that some people really can't explain and put into words, but you can gain respect and feel included when you experience that thrill of competing in a race."
• To contact RACIN', call 716-858-6215.